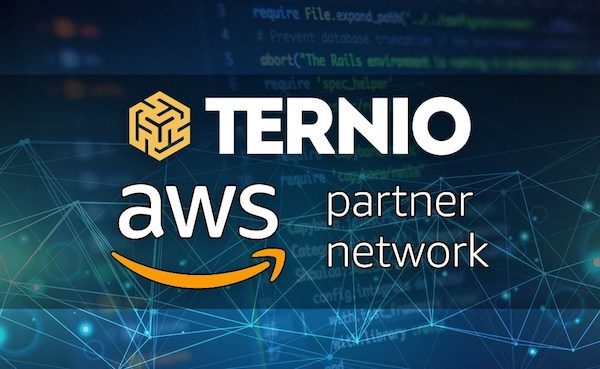 Ternio, a U.S.-based blockchain firm, announced on Tuesday it has been named a new Amazon Advanced APN Technology Partner. As previously reported, Ternio provides a highly scalable blockchain framework called Lexicon to enterprise business clients. According to Ternio, Lexicon is independently verified at over 1 million transactions per second, all on chain.
"Ternio brings transparency to programmatic digital advertising with its Lexicon framework. Lexicon is the only scalable blockchain solution for programmatic digital advertising – capable of supporting over 1 million transactions per second. Existing companies in the ad supply chain use Lexicon to verify users, instantly pay publishers, and protect advertisers from ad fraud."
Ternio reported its Lexicon framework has made headlines in recent months as the only scalable blockchain framework capable of supporting over one million transactions per second, fully decentralized and on-chain. The firm noted that with this new integration, any Amazon AWS client will have the option to use Ternio's Lexicon framework and deploy a scalable blockchain solution within a cloud-based environment.
Speaking about being named a new APN technology partner, Daniel Gouldman, CEO of Ternio, stated:
"We're very excited about being accepted as an AWS Advanced Partner, making us one of only five blockchain companies in the world with this designation. Now, any enterprise client from a small startup to the U.S. federal government can deploy our blockchain technology at scale on AWS."
Corey Ballou, who leads blockchain development at Ternio, also commented:
"Ternio has automated the deployment of Lexicon onto Amazon AWS' Managed Kubernetes Service, EKS. Pairing Lexicon with EKS was a natural choice for us. Coupling Kubernetes with Amazon's underlying service offerings affords us the speed, security, scalability and availability we require. It allowed us to architect and automate the deployment of production-level Hyperledger Fabric clusters in a manner that is highly available and auto-scalable. We've also been able to implement Elastic Block Storage (EBS) auto-scaling to support the need for large, immutable datasets."
This news comes just weeks after Ternio announced the launch of its new cryptocurrency debit card, BlockCard, a debit card that enables the cardholder to spend the value of their cryptocurrency with the same ease as traditional credit cards. BlockCard currently supports four cryptocurrencies, Bitcoin (BTC), Ethereum (ETH), Stellar Lumens (XLM) and Ternio (TERN)

Sponsored Links by DQ Promote