Sunday, a Thailand-based insurtech startup, announced on Monday it secured $10 million through its Series A funding round, which was led by global investor network Vertex Ventures SEA and India.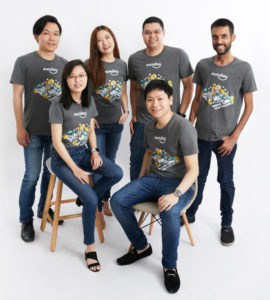 Founded in 2017, Sunday is a fully-integrated sales and services InsurTech that uses artificial intelligence and digital platforms to offer personalized insurance products and services that suits all types of individual and business risks.
"Policies use unclear language, claims systems are flawed and fraud is driving up costs and premiums. Customers keep buying products they don't really need or understand. Control-Alt-Del. We just rebooted insurance by developing technology that helps us better understand our customers. This means we can create completely new types of products that are always better value. For example, you pay only for what you use with our 'Weekend Car Insurance' policy, and not for all those days when you're not behind the wheel."
While sharing more details about the startup, Sunday Co-Founder and CEO, Cindy Kua, stated:
"Sunday is on a mission to serve customers very differently as an InsurTech in South East Asia. The insurance market is fragmented with huge gaps in current offerings coupled with many pain points throughout the entire customer journey. In addition, the digital economy continues to change the way customers shop on-demand. At Sunday, we believe the only way to solve this is to own and simplify the entire value chain using data and technology."
Chua Kee Lock, a Managing Partner at Vertex Ventures SEA and India, also commented:
"Vertex Ventures SEA and India is pleased to partner with Sunday on their digital insurance journey. This is a long-awaited transformation that the insurance industry must undertake given the confluence of technology and data. If eCommerce can provide dynamic pricing, then a digital insurer like Sunday can provide personalized premium pricing depending on insights into consumers' behavior and needs. As part of the insurance journey revolves around claims experience, Sunday's integrated technology platform will enable a more seamless claims experience, where pay-out will be carried out efficiently."
As for future plans, Kua went on to add that she expects that Sunday will expand its business to Malaysia, Indonesia, and Singapore. Sunday will also be looking to receive additional investment from foreign investors in the end of this year.