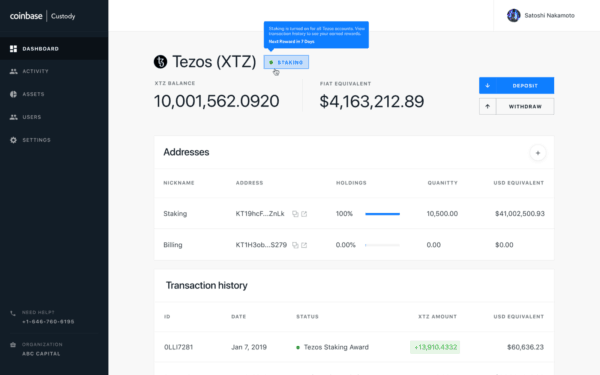 Cryptocurrency exchange Coinbase announced on Friday it has launched staking support for Tezos (XTZ) for Coinbase Custody clients. The platform claims to be the first full-service, regulated, comprehensively-insured, and 100% offline staking provider in crypto.
"We launched Coinbase Custody with a simple thesis: institutions need a regulated and trusted partner to help them store their crypto assets. That approach has helped us scale to more than 60 clients and $600 million in assets under custody. Today we're taking the next step of our journey — from helping our customers store their assets to enabling them to actively, safely and easily participate in crypto networks."
Coinbase also reported most Coinbase Custody clients are fund managers who act as fiduciaries to their investors. Sharing her thoughts about the support, Kathleen Breitman, Co-Founder of Tezos, stated:
"The launch of Tezos staking through Coinbase Custody serves an acute need that existed up until now: a way for institutional participants who rely on a secure, offline custodian to take an active role in the network. Achieving our mission of creating a 'digital commonwealth' means facilitating participation for all, and that includes the institutional customers that Coinbase Custody brings to the space."
Coinbase then explained:
"For Tezos, and all future chains we support, Coinbase Custody runs its own nodes and validators and subjects them to the same security and infrastructure standards that have safely stored the tens of billions of dollars in crypto that we've held over the past seven years. Coinbase Custody is the first all-in-one, truly institutional-grade staking service."
Some specifics include the following:
100% offline, segregated storage for all client funds: Coinbase Custody posts all bond requirements for its bakers.
Staking fiduciary and Qualified Custodian: Coinbase Custody is a fiduciary and offers staking services as a non-discretionary fiduciary activity to its clients.
Ease of use: clients enjoy the same simple deposit, withdrawal, reporting and consensus features as with any other asset on Coinbase Custody.
Coinbase went on to add that in the coming weeks it will be adding governance support for the Marker (MKR) protocol.

Sponsored Links by DQ Promote