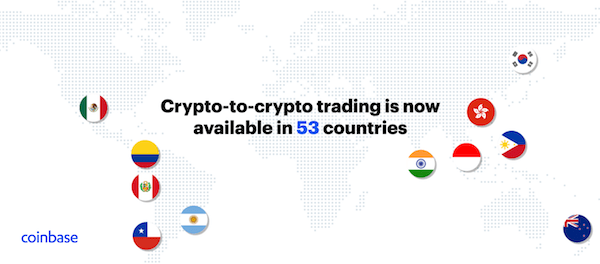 Cryptocurrency exchange Coinbase announced on Wednesday it is expanding its crypto-to-crypto support to more than 10 countries around the world, with the total amount of countries being offered the support now up to 53.  The platform revealed: 
"One year ago, Coinbase served customers in 32 countries across two continents. Over the past 12 months, one of our main priorities has been to bring Coinbase services to people in all corners of the globe. Today we're excited to welcome 11 more countries across Latin America and Southeast Asia to the cryptoeconomy by allowing customers to store, trade, send, and receive cryptocurrencies on Coinbase Pro and Coinbase.com — increasing the reach to 53 countries, spread across four continents."
Coinbase also reported that direct trading between cryptos is increasingly the new norm and in the last year has overtaken traditional fiat to crypto trading across the globe. Coinbase customers may now securely and quickly trade between different cryptos and send crypto off-platform at their convenience.
"As crypto moves from the current 'investment phase' into what we call the 'utility phase,' a host of new use cases will present themselves. This could take the form of decentralized versions of traditional financial services like lending or micropayments or truly novel crypto applications that no one has even thought of yet. The ability to convert from one crypto to another will form the backbone of this new decentralized economy."
Coinbase went on to add that customers in Argentina, Mexico, Peru, Colombia, Chile, India, Hong Kong, South Korea, Indonesia, the Philippines, and New Zealand may now sign up on for its platform service and download its iOS and Android apps

Sponsored Links by DQ Promote