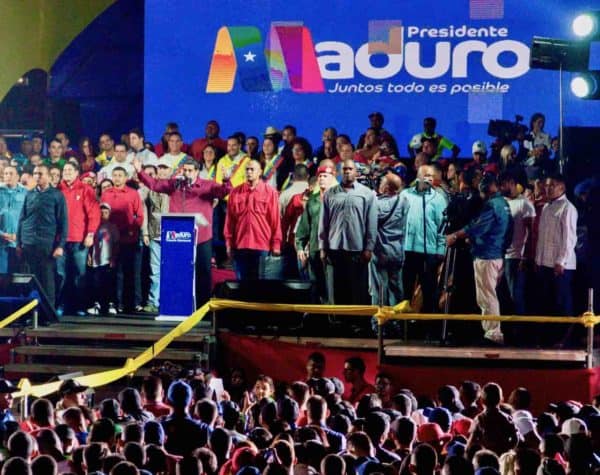 The Financial Crimes Enforcement Network (FinCEN) has issued an updated advisory to warn financial institutions of continued widespread public corruption in Venezuela. This is part of an ongoing effort to isolate the Maduro regime who recently lost a popular election but has refused to leave office thus inciting many countries to criticize the emerging dictator.
The Venezuelan economy has suffered greatly under the guise of socialism. One estimate predicted that inflation in Venezuela will hit 10 million percent in 2019 as the state has effectively collapsed.
FinCEN states that Venezuelan senior political figures and their associates have engaged in the "corrupt looting" of Venezuela's government-sponsored food distribution program. The advisory provides a number of financial red flags to assist in identifying and reporting suspicious activity that may be indicative of corruption.
One of the areas where the failing socialist Maduro regime has "experimented" is with the use of digital currency in the form of El Petro – a crypto tied to the production of oil. FinCEN states that the Maduro regime continues to develop new tokens in an attempt to avoid sanctions.
FinCEN reports that in 2018, the Russian bank Evrofinance Mosnarbank emerged as the primary international financial institution willing to finance the Petro.
In March of 2019, Treasury's Office of Foreign Assets Control (OFAC) sanctioned Evrofinance Mosnarbank for "materially assisting, sponsoring, or providing financial, material, or technological support for, or goods or services to or in support of, Petroleos de Venezuela S.A. (PdVSA)."
Financial institutions are reminded that Executive Order (E.O.) 13827 prohibits U.S. persons from any involvement in the petro digital currency.
Sigal Mandelker, Under Secretary of the Treasury for Terrorism and Financial Intelligence, said that even as the Venezuelan economy sinks deeper into despair, Maduro insiders seek "illicit revenue streams."
"We are alerting financial institutions that the Maduro regime is using sophisticated schemes, including the diversion of humanitarian assistance, to evade sanctions and maintain its grip on power. The international financial community must be vigilant to prevent exploitation by corrupt regime insiders and their enablers, including front companies and foreign financial institutions that continue to prop up this illegitimate regime."
FinCEN Director Kenneth A. Blanco said the Venezuelan people are being preyed upon by the illegitimate Maduro regime. He called the suffering by Venezuelans as "an epic tragedy the proportions of which are rarely, if ever, seen in the Western hemisphere because of the greed and corruption by the illegitimate Maduro regime."

Sponsored Links by DQ Promote