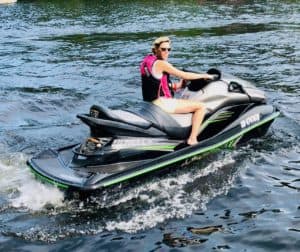 Voom is poised to provide on-demand insurance following the completion of a $5 million Series A funding round, according to a note from the company.
Voom, a Tel Aviv based startup, received the capital injection from Arbor Ventures with participation from returning investors F2 Capital, Verizon Ventures, and Kaedan Capital, as well as new partner Plug and Play Ventures. Since launch, Voom has raised $7 million in total.
Voom said it will build on the success of their SkyWatch.AI, a usage-based insurance service for commercial drones. Voom will soon offer on-demand insurance for the usage of e-scooters, powersports, motor boats, small planes, and other modes of transport.
Tomer Kashi, CEO and co-founder of VOOM, said the rise of global on-demand services provides an opportunity for his service:
"Voom will ensure that users of unique mobility platforms can grab insurance on-the-go from their mobile devices whether they ride, fly, or sail."
Voom seeks to provide an alternative to existing, largely rigid insurance plans that are based on annual service.

Voom said it will build upon SkyWatch.AI's telemetry-based risk analysis engine for commercial drones, which provides users with a mobile application that sends operators real-time hazard warnings, feedback, and actionable insights on how they fly. As one would expect, the new platform will collect mobility data points to analyze potential safety threats, including weather information and hazardous environments. Voom will then use this data to provide customized, on-demand insurance.

Barak Rabinowitz, Managing Partner at F2 Capital, said they saw the demand and traction of SkyWatch.AI, which encouraged them to back the Voom team and their insurance model.

Voom said it will seek to partner with top insurance carriers to provide usage-based insurance policies.

Voom may be viewed as the future of insurance. No longer a static process where you pay a monthly fee for years hoping to never need the product, Voom may allow consumers to customize insurance to fit their lifestyle and not the underwriters. Simultaneously, if traditional insurance adopts the on-demand insurance model, companies can open up insurance offerings to a plethora of events that too frequently remain uninsured.

Voom is a licensed insurance broker in all US states. Expect App-based insurance on demand soon.

Sponsored Links by DQ Promote