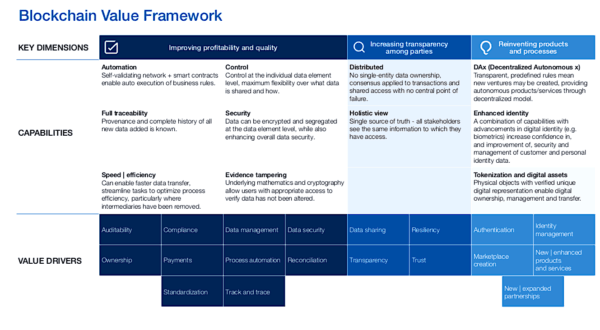 The World Economic Forum and the International Organization for Public-Private Cooperation, with the support of Accenture, has published a report on the value of blockchain.
While there has been more than enough hype regarding distributed ledger technology (DLT) and there remains an ongoing debate as to where blockchain starts and a good old database kicks in, a majority of people see value in blockchain. Many companies are looking to implement the emerging tech.
As part of the process, the group has released the "Blockchain Value Framework" seeking to better define when an organization will benefit from blockchain. The "white paper" or report, is entitled "Building Value with Blockchain Technology: How to Evaluate Blockchain's Benefits."
The report is a genesis of a survey of 550 individuals within 13 different industries plus an analysis of 75 different blockchain projects.
The report states that Blockchain use-cases have the potential to transform the business across three main dimensions:
1) improving productivity and quality;
2) increasing transparency among parties; and
3) reinventing products and processes.
The authors posit that "bucketing the pain points and opportunities into these three groups simplifies the next steps."
Sheila Warren, Head of Blockchain at the World Economic Forum, said that in their previous paper (April 2018) they stressed that blockchain deployment is not the end goal. "We wanted to get beyond the hype," Warren explains.
The WEF framework is designed for executives who have figured out "blockchain is the right solution for a specific problem," but are struggling with next steps.
Sure. Payments and financial transactions may benefit from distributed ledgers. The auditability, transparency, and reduction of process friction can streamline and cut costs. But blockchain may be able to accomplish a lot more.
To quote the WEF:
"In nine of the industries surveyed, the full traceability and integrity of the data were the top two potential advantages of using blockchain technology. Most of the industries surveyed could benefit from smart contracts and automation provided by blockchain."
The authors caution that respondents on average expected a "24% return on investment on their early blockchain projects, but realized only a 10% return."
As for the hype side of things, the blockchain buzz can drive name recognition with 42% of  respondents expected "noticeable or significant brand improvement from simply announcing a blockchain project." Once a project is operational, 87% predicted better brand identification.
David Treat, MD and Global Blockchain Lead at Accenture, says organizations need to make decisions with confidence which requires proof of the value proposition.
"Through this new framework, we aim to educate businesses and challenge them to rethink their current business models, relationships between ecosystem partners, customers and their investments in technology," says Treat. "The path to blockchain adoption starts here with evaluating the technical and strategic priorities and aligning them with investments in innovation."
Warren adds that we may be moving beyond the hype but blockchain is here to stay.
"Central banks are experimenting with digital currencies and supply chain networks are piloting blockchain policies. We are also seeing companies like Facebook and Starbucks entering the blockchain and cryptocurrency space," Warren states. "This means practical use cases of the technology will become more widespread."
So is the WEF process worth a review? Sure. Check it out, it is embedded below.
---
---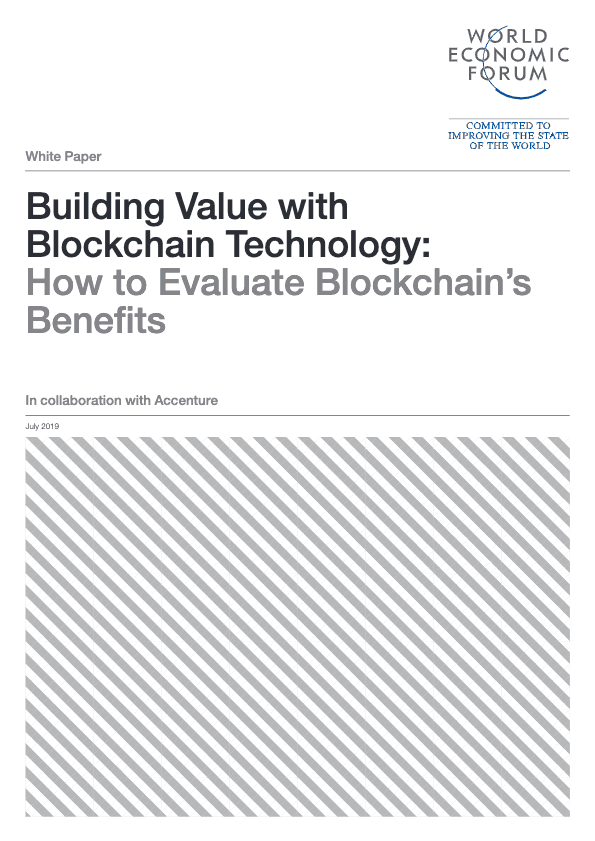 Sponsored Links by DQ Promote