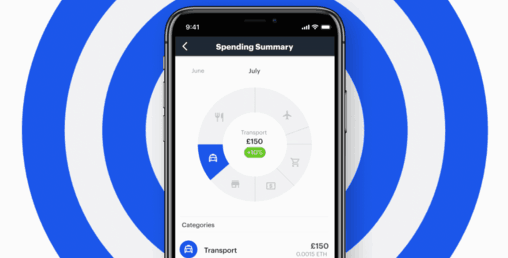 Cryptocurrency exchange platform Coinbase announced on Tuesday the launch of its new feature, Spending Summaries, for users to keep track of their Coinbase Card purchases.
Coinbase reported that Spending Summaries break down your crypto purchases into ten different categories such as Transport, Cash Withdrawals, Restaurants, and more, helping you track your spending habits over time. The platform further explained:
"Since launching Coinbase Card in May, we've helped customers in the UK, Ireland, France, Spain, Italy, Germany and the Netherlands, spend over $2,500,000. Every day, thousands of crypto purchases are completed using Coinbase Card, with each transaction seamlessly exchanging crypto into pounds, dollars, euros and more, to instantly spend worldwide."
Coinbase then noted customers who withdraw funds from Coinbase to their bank account, typically do so to spend it. However, to do this, customers go through a 5-step process,  5 steps too many for everyday crypto purchases. Coinbase shared it launched Coinbase Card to reduce the 5 steps to 1,  a simple tap, swipe or PIN.
"Coinbase Card comes with its own iOS and Android apps. It allows you to easily select which crypto wallet you want to make a purchase with before making a payment, offering instant smart receipts after each purchase, and now with Spending Summaries, you can see your monthly spending habits by category."
Coinbase went on to add that in the coming weeks, it will be announcing new countries Coinbase Card will be launching in.

Sponsored Links by DQ Promote