Published in an Op-Ed article on Fox News last week, incoming Commodity Futures Trading Commission Chair Dr. Heath P. Tarbert commented on his vision for the regulatory agency. Tarbert replaces the wildly popular J. Christopher Giancarlo who was dubbed Crypto Dad by blockchain industry supporters.
In the Op-Ed, Tarbert said he was building the CFTC agenda with an open mind. Of course, the pursue of acts of fraud and abuse will continue, but other issues such as Brexit are top of mind.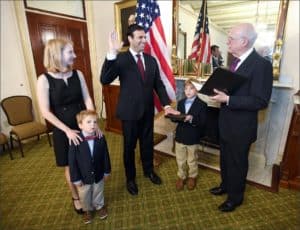 When it comes to Fintech innovation, Tarbert had this to say:
"Technological innovations such as blockchain hold great promise, and the rise of digital 'currencies' has created a new asset class.  Working with our counterparts, the CFTC must develop a holistic framework for these 21st-century commodities. We must also keep a weather eye against emerging threats, especially cyber risks.  Protecting against these risks, which includes protecting confidential trading data, is a top priority of the CFTC as well as the firms and exchanges we regulate … How we regulate is just as important as what we regulate … Reinvigorating our historical principles-based approach, where appropriate, will help our markets remain fair, innovative, and vibrant."
Tarbert takes the reigns of the CFTC during Congress's summer recess. Expect more clarity on his support of innovation when policymakers return in the fall.
Technological innovations such as #blockchain hold great promise, and the rise of digital 'currencies' has created a new asset class