Scammers in the Canadian city of Winnipeg have been stealing Bitcoins from Bitcoin ATM customers using a simple poster hung near the kiosk.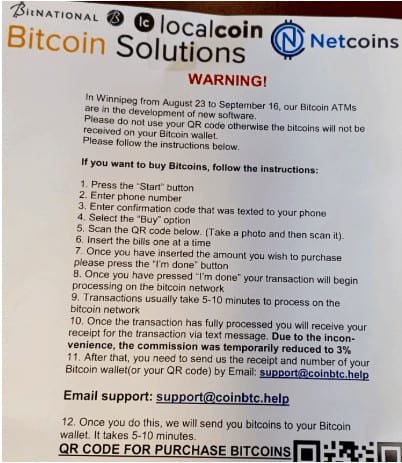 According to the Winnipeg police department:
"Posters have been located on or next to Bitcoin ATMs informing users the Bitcoin ATMs are in the development of new software."
People usually buy or sell Bitcoins at kiosks using a wallet app on their phones. That app either produces a QR code for scanning or allows the user to scan a QR code for the sending or receiving of bitcoins.
In the Winnipeg scam:
"Users are advised not to use their own bitcoin wallet to purchase and deposit bitcoin. They are directed to deposit purchased Bitcoin into a wallet identified through a QR scan code on the poster."
Following the instructions on the poster, however, transfers customer's newly-purchased bitcoins to the scammer's wallet:
"By following instructions on the poster, users are purchasing Bitcoin with their own money and giving the Bitcoin to someone else. Users should be advised they will be unable to retrieve these funds after completing the transaction."
Police have confirmed that the posters, "have not been put up by the owners/operators of the Bitcoin machines."
Crypto ATMs do not work the same way as regular bank machines, and sent bitcoins cannot be recovered without the recipient's cooperation. Police advise that customers of Bitcoin ATMs make sure they are familiar with how trading with the machines work.
The Winnipeg Police also remind the public to be aware that no government agency would ever send or receive funds at a crypto kiosk:
"Users should never pay for outstanding bills by sending money through a Bitcoin ATM. Government agencies including the CRA, Manitoba Hydro, the Police, and all Banks and Credit Unions do not accept Bitcoin as a form of payment."
Some time in 2017 or 2018, a new immigrant to Prince Edward Island received a phone call from scammers impersonating the Canada Revenue Agency (CRA).
The caller convinced the woman she owed taxes and would be arrested and deported if she didn't pay.
Terrified, the woman sent her life savings,$62 500 to the scammers using a Bitcoin ATM in a Charlottetown restaurant.
A Canadian court ruled last September that the ATM company, Instacoin ATM Canada, Inc., could not be held responsible for the woman's loss.
"Both sides involved in this case are completely sympathetic to the woman," said Chief Provincial Court Judge Nancy Orr in her decision. "It's up to the bitcoin purchaser to know what they're doing."
Sponsored Links by DQ Promote