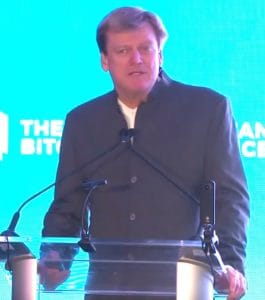 Overstock's (NASDAQ:OSTK) recently departed founder and CEO, Patrick Byrne, sold his entire 13% stake in the company for $90 million USD in the past three days, MarketWatch reports.
Byrne left Overstock in August after disclosing in a company news release and in interviews that he'd had an affair with alleged Russian agent Maria Butina.
Butina advocated for gun rights in the US, and appeared in sexy photographs bearing firearms. In December 2018, she "…pleaded guilty to being directed by a Russian government official to 'establish unofficial lines of communication with Americans having power and influence over American politics.'"
The Overstock share price tanked steeply after Byrne's disclosures of the affair and other strange details.
Prices began to recover after Byrne's resignation was announced, and, according to MarketWatch, "hit a 52-week high ahead of a…special dividend planned for next week."
The company's stocks have now, "taken a big hit as Byrne sold, falling 20.8% Monday, 10.9% Tuesday and 8% on Wednesday."
Byrne used a blog post on his 'Deep Capture' website to blame his decision to sell his stake on the Securities and Exchange Commission (SEC), which he called, "the Deep State's pets."
Byrne said he decided to sell after the regulator allegedly 'leaked" that it was planning to, "…Bazoomba our digital dividend."
"Whenever I have had any question about whether the SEC would or would not do something totally outrageous in order to hurt our company to benefit their clients on Wall Street, they never let me down: they always did the evil thing," Byrne wrote.
Marketwatch reports that, upon his departure, Byrne, "left behind plans for a 'digital dividend' set for next week that could only be accessed through Overstock's experimental blockchain-based exchange."

Provisions, "…required the holder to retain the asset for six months, which many thought to be an attempt to squeeze short sellers, with whom Byrne has frequently battled publicly."

Byrne has written that, "after paying tens of millions in taxes…" proceeds from the sale of his stake in Overstock will be put into, "…investments that are counter-cyclical to the economy: Gold, silver, and two flavors of crypto."

Sponsored Links by DQ Promote