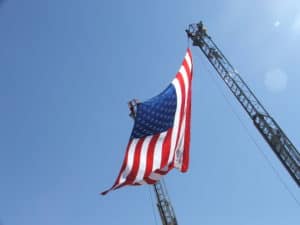 West Virginia's Secretary of State, Mac Warner, disclosed in a speech and press release October 2nd that someone tried to hack into a blockchain-based voting system provided to the state by a company called Voatz.
The system was being trialed as a means of allowing military personnel stationed overseas to vote in elections in the regions they hail from.
Though Warner believes that no votes were compromised in the hack, the FBI is nonetheless investigating. According to Warner:
"In last year's election, we detected activity that may have been an attempt to penetrate West Virginia's mobile voting process. No penetration occurred and the security protocols to protect our election process worked as designed. The IP addresses from which the attempts were made have been turned over to the FBI for investigation. The investigation will determine if crimes were committed."
Voatz describes itself as, "a mobile elections platform that makes it possible to vote from a mobile device by leveraging the security built into the latest versions of smartphone technology, and the immutability of the blockchain."
The company says it has processed more than 80,000 votes in 30 elections since June 2016.
Voatz was reportedly used last May in civic elections in Denver as part of a pilot program to allow, "active-duty military personnel and eligible dependents as well as other overseas voters," to vote via a smartphone app. 
Voatz is a "portfolio company" of Overstock. At the time of the Denver election, Overstock's recently-departed CEO, Patrick Byrne, who resigned after disclosing an intimate affair with a Russian agent, called the Denver pilot, "an ice-breaking moment for the world of voting security."
But not everyone is excited about blockchain-enabled voting via the Internet.
In October 2018, researchers at Cornell University warned blockchain technology would give a false sense of security in Internet voting, a fundamentally insecure proposal in and of itself:
Calling the Internet "a sea of buggy code" easily breached, the researchers warned:
"Blockchains might sound like an ideal remedy for the trust problems caused by internet voting…In fact, they could make things worse."
"For years, experts on election security have warned that the internet is too dangerous for such socially crucial and time-sensitive functions as voting. Renowned cryptographer Ronald Rivest, for instance, has remarked that 'Best practices for internet voting are like best practices for drunk driving' – there's no safe way to do either one.'"
"Last November, 144 West Virginian voters—including active members of the US military serving overseas—used Boston-based Voatz … to cast their ballots for the Senate and House of Representatives as well as for state and local offices. That's a small number, but could be consequential, especially in close races. Four seats in West Virginia's House of Delegates were decided by less than 150 votes."
WV Secretary of State Warner said in his statement that his job, "is taking meddling in any election – in any manner – very seriously":
"The designation of elections as 'Critical Infrastructure' by the U.S. Department of Homeland Security exemplifies the significance with which state and federal law enforcement treats potential threats against our democracy"
Warner also announced in a related press conference October 1st that, one day before, US officials had taken their, "first action under Executive Order 13848, 'Imposing Certain Sanctions in the Event of Foreign Interference in a United States Election.'"
According to Warner:
"This Executive Order warns countries they may face sanctions should they interfere in US elections. Yesterday, the US Government targeted four entities, seven individuals, three aircraft, and a yacht, all associated with the Internet Research Agency and its financier, Yevgeniy Prigozhin."
Warner added:
"There has been much ado about foreign meddling in our elections, with specific concern about Russia, China, Iran, and North Korea. We're also keeping an eye on terrorist organizations and other bad actors who may try to influence our elections."
Sponsored Links by DQ Promote