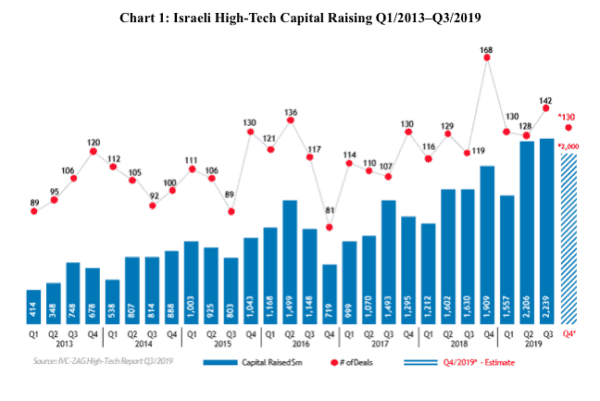 Israeli high tech firms are having a gangbuster year when it comes to raising capital. According to a report published by IVC Research Center and ZAG S&W Zysman, Aharoni, Gayer & Co, during Q3 these firms raised a record $2.24 billion for 142 different deals. This is both the most raised in any quarter since 2013 and highest number of deals.
In comparison to the same quarter in 2018, Israeli high tech firms raised $1.63 billion for 119 deals.
The report indicates that 13 deals over $50 million captured 57% of total capital raised in Q3/2019.
For the 9 months of 2019, VC backed deals raised $4.68 billion which is nearly the total for 2018 which registered $4.76 billion. It appears that Israel high tech firms will set a record for VC funding for the year.
So how long can the funding boom last?
"As a former athlete, I know that once you reach first place, the real difficulty is holding on to it," said Shmulik Zysman, Managing Partner at ZAG-S&W. "After seeing record-breaking numbers in the previous quarter, the third quarter even surpassed it, with this year's recruitment record breaking compared to every previous quarter. The record was recorded both for the Israeli funds whose total borrowing remains high and stable, and for the total capital, which climbed by 45% in the corresponding quarter last year and last quarter."
Zysman said that data suggests the money is shifting to "less risky venture capital." Later stage firms are receiving more funding while earlier-stage firms are flat.
Marianna Shapira, Research Director at IVC Research Center, adds that over the last five years there has been a continuous increase in capital raising and exits in these technology verticals, and more than 70% of active companies are in sales stages.
"… even though there has been no increase in the capital raising in the early stages, IVC expects the rate of funding for these companies might increase in the last quarter of this year, in accord with the trend observed in previous years," predicted Shapira.
Of note is the fact that OurCrowd, the global leader in the investment crowdfunding sector, has helped to fuel this growth. While not mentioned in this specific report, OurCrowd has been highlighted in the past as the "Most Active Venture Investor in Israel."