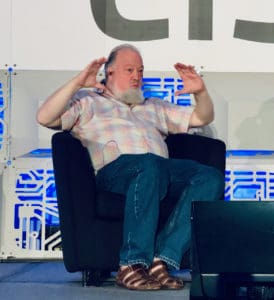 David Chaum, who's widely known for inventing the world's first digital currency, called "e-Cash," during the early 1980s, revealed on November 22 the upcoming release of the xx network whitepaper and the Praxxis technical brief.
The brief will reportedly provide details and key insights into the xx network and "xx coin," a blockchain and cryptocurrency supported by Elixxir and Praxxis technology.
According to a press release shared with Crowdfund Insider, Chaum has "described key features of the xx network consensus protocol, including quantum-secure trustless initialization, an unmanipulatable random seed, constant-sized endorser sampling, and compact quantum-secure group signatures which provide unprecedented efficiency."
The release mentioned that the xx network is combined or integrated with the Elixxir "metadata-shredding" technology. The xx network offers a "protected digital sphere" where people can share project ideas and concepts, sell various products and services, and securely and privately exchange value.
The xx network whitepaper and the Praxxis technical brief should be available next week, the release noted.
Chaum stated:
"The xx network and xx coin will empower individuals to protect their privacy and choose how data is collected about their digital lives. In a world where digital privacy is threatened by large, powerful organizations, the xx network and xx coin secure parity between individuals and centralized powers."
The announcement was reportedly made in Amsterdam at the Centrum Wiskunde & Informatica ("National Research Institute for Mathematics and Computer Science"), where Chaum performed pioneering research on digital currencies and cryptography systems.

The lecture is part of a two-day event which featured Chaum being honored with the Dijkstra Fellowship.

Sponsored Links by DQ Promote