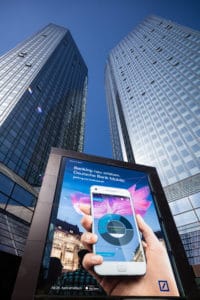 Frankfurt-based Deutsche Bank AG, a multinational investment bank and financial services company that's dual-listed on the New York Stock Exchange (NYSE: DB) and Frankfurt Stock Exchange (FWB: DBK) with around €1.3 trillion in assets, will reportedly be investing in Germany-based Fintech firm Traxpay.
According to a release, Deutsche Bank will be acquiring Traxpay so that it can expand its supply chain finance business.
Traxpay provides its dynamic discounting and reverse factoring solutions to its corporate customers. These products allow corporations to effectively manage their cash flows. Buyers and sellers that use the dynamic discounting solution (offered by Traxpay) are able to take advantage of flexible payment terms for products and services. Buyers may get a discount depending on when they make payments.
Retailers and suppliers may use Traxpay to determine whether they want to take care of a payable earlier and get a special discount, or whether they would prefer to work with a bank that can offer them financing options. Traxpay reportedly handles EUR 1 billion per year in transactions.
Daniel Schmand, global head of Deutsche Bank's Trade Finance and Lending, stated:
"The current crisis acts like a catalyst to the market. Numerous companies are reviewing their strategic relations with their suppliers and are identifying substantial potential in terms of financing."
Schmand added that the recent developments resulting from Covid-19 have proven that liquidity is very important for the bank's customers. Traxpay should help Deutsche with offering better liquidity solutions to its clients, Schmand said.
Markus Rupprecht, founder and CEO at Traxpay, remarked:
"With Deutsche Bank, we have gained a strategic investor with a leading role in supply chain financing across the globe."
Earlier this year, Deutsche introduced an instant payments service in Thailand, called PromptPay – which is part of the Thai government-managed payments modernization program.

PromptPay, along with other initiatives, aims to support greater financial inclusion and will also complement the launch of various digital payments solutions.

Deutsche Bank has been the subject of many criminal investigations. The institution has been accused of tax evasion, has been involved in espionage scandals, and has faced criminal cartel charges in Australia.

Deutsche has also been accused of being involved in the Danske Bank money laundering scandal and its questionable relationships with the late Jeffrey Epstein and US President Donald Trump.

Sponsored Links by DQ Promote