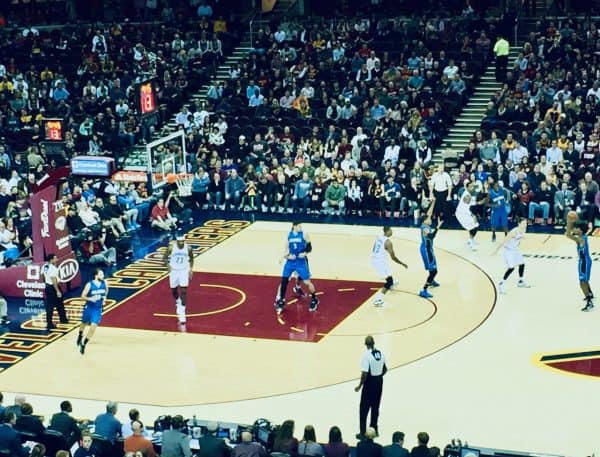 Consumers have reportedly spent over $230 million purchasing and trading digital collectibles of NBA game highlights.
The NBA's Top Shot product is a blockchain or distributed ledger tech (DLT)-powered digital trading card system that has managed to generate more than $230m worth of gross sales, according to its developer Dapper Labs.
Dapper Labs is leveraging DLT to create "scarcity" for virtual assets. Dapper Labs explains that the system works like trading cards, only with NBA game highlights and digital artwork.
One of NBA superstar LeBron James' highlights sold for as much as $200,000. A Zion Williamson edition has also recently sold for about the same amount. The NBA appears to have  aligned itself for the digital future which includes a booming trading card marketplace.
The National Basketball Association teamed up with Canada's Dapper Labs, creators of the highly popular CryptoKitties game, in order to develop its version of a collectible virtual asset.
NBA Top Shot is where digital collectible consumers can buy non-fungible tokens or NFTs. Each virtual collectible is linked to a blockchain. This design approach gives NFTs a unique certificate of authenticity. This means that if someone were to try to make an identical copy of the game highlights, then the software would be able to reliably detect it as fake.
There are "packs" being offered to get in the game for only around $9.00 — and these offers are always getting sold out quickly.
Caty Tedman, Head of Marketing at Dapper Labs, noted that Top Shots has generated hundreds of millions in sales. However, most of this sales volume has come from traders or enthusiasts trading the collectibles after their first sale. Dapper Labs is able to generate revenue through fees acquired from P2P transactions and introducing new packs of NFTs.
Tom Richardson, a Digital Media Professor at the Sports Management Program at Columbia University, said that he thinks it's "fascinating."
Lars Rensing, CEO of blockchain service provider Protokol, remarked:
"It's a nice evolution and good to see that people are still doing collectibles, even during this time. It's a new step to the future."
These games have also turned into a viable new revenue source for the NBA.  Top Shots had first emerged after a licensing agreement the NBA and its players' union had entered with Dapper Labs back in 2019.
Richardson, who was previously Head of Publishing at the NFL, stated the league is able to solicit 10-15% of sales from a firm that's using their intellectual property. The NBA has reportedly decided to license the footage reels to Dapper Laps, which then  digitizes the videos, which makes them a limited or scarce item.
Certain NFTs include highlights of different angles and digital artwork. One of these unique digital tokens is presently listed for more than $240,000.
Billionaire Mark Cuban, who owns the Dallas Mavericks, has said that Top Shot is comparable to the "old-school" trading cards model, where people are able to have fun trading and collecting scarce items, but only with no risk of theft or damage.
Cuban added that the value of these NFTs is "still set by the same laws of supply and demand" of traditional cards.
One of the notable bets for traders is that by 2051, a LeBron James NFT might be as valuable as a 1952 Topps Mickey Mantle card today. One of these super-rare cards has sold for $5.2 million.
Dapper Labs team member Tedman noted:
"We think it could be a 100-year product. If you think about what the rookie cards today will be worth in the future, especially the ones from this point of the product. Everyone who is participating now is really getting in on the ground floor."
Richardson added:
"One of the things that have defined the digital era is we've moved from a world of scarcity to a world of abundance with all kinds of media assets and products. But the thing that defines the trading card business is a physical scarcity of the cards. So (Dapper) created these NFTs with the idea of scarcity combined with authenticity because of the way the blockchain works."
Dapper Labs recently acquired $250 million in funding and the company now values itself at $2 billion, which is mostly due to the rising popularity of Top Shot.
Dapper Labs said it would be using the funds raised to expand its blockchain platform, Flow. Tedman, who is one of the developers of Top Shot, stated that the platform now has around 350,000 registered users and also noted that Flow would be able to handle the capacity of a high-value marketplace..
Tedman added:
"It lets us hit a scale that other blockchain projects haven't yet." 
She also mentioned that of the $230 million in sales, around 95% of that amount has been from consumers on its marketplace who regularly purchase, sell and trade.
Tedman confirmed that the company introduced 5,000 new packs of highlights as a sort of stress test for the Flow blockchain and 90,000 consumers had gotten in line to make purchases. The packs managed to sell out very quickly, Tedman revealed.
She further noted:
"They're coming in, collecting, putting together what they think are good collections, buying and selling. It's almost like if you stash together trading cards with the stock market. That in of itself is a game, before we release the mobile game."
The mobile game, which is scheduled to launch at some point later this year, will let people create NBA-like rosters by getting special NFT moments, and then they can take part in online tournaments — and potentially be able to win even more "scarce" NFTs that could increase significantly in value.