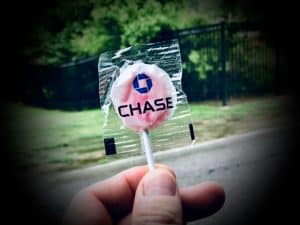 JPMorgan (NYSE:JPM) will reportedly be closing down its Chase Pay method of making payments for apps and websites effective March 31, 2021.
Chase bank's full list of retailers accepting the payment method, which includes Shell, Starbucks, and Walmart customers will be affected by the suspension of the service.
In statements shared with Yahoo Finance, a Chase representative explained:
"As technology has evolved, so has our strategy for integration at the merchant point of sale. We are incorporating the most popular features directly into the Chase mobile app and chase.com, including receipt capture, direct provisioning of Chase cards to partner wallets, Pay with Points and Chase Offers. In addition, we are working closely with our merchant clients on ways to integrate our digital experiences within their own respective sites."
The official Chase bank website notes that Chase Pay users can always add their Chase cards "individually" to their favorite shopping sites and apps as well.
As Chase winds down this particular service, it is encouraging clients to look into using PayPal.
The bank's website says that "in preparation for Chase Pay no longer being available for use in PayPal, [you may] learn [about] how to add your Chase cards directly to your PayPal account."
JPMorgan has been gradually ending support for Chase Pay for about a year, initially with its Apple Pay-like mobile payments app in February of last year and now more recently with the actual payment method itself.
Like other banking institutions, Chase has made important changes to its systems for handling P2P which includes Zelle, a network that US banks participate in that provides people a convenient way to send funds. Zelle is often compared to Venmo.
The bank has been working with PayPal since 2017, where Chase's payment cards had been integrated with PayPal's interface, also supporting the bank's "Ultimate Rewards" points to be used for transactions (replacing currency).
The winding down of Chase Pay seems like an end to banking institutions attempting to introduce innovative payment methods. Apple, PayPal, Google, and Samsung have been able gain a large portion of the market share for facilitating seamless mobile payments.
When it comes to P2P transactions, large banks have mainly offered meaningful competition via the Zelle collaboration, which now competes with PayPal, Venmo (now owned by PayPal), and payments giant Square.