IOTA, a scalable, feeless, and decentralized distributed ledger technology, has been selected for the European Blockchain Services Infrastructure (EBSI), a project organized the by the European Union.
Dominik Schiener, co-founder and Chairman of the IOTA Foundation, said they are very excited about the selection in a process that was described as:
"…we feel great about our chances to play a central role in bringing distributed ledger technology to European administrations. EBSI is an excellent fit, both technologically and ideologically. We do not need to adapt an existing blockchain or to start developing a new solution that fits EBSI's needs. Our core technology already offers a near-perfect match to the strict requirements and precise specifications for a European ledger infrastructure, and it is ready for widespread adoption with only minimal adjustment."
IOTA has created "Tangle" to solve three fundamental problems with blockchain technology: high fees, scaling and centralization. It is an open-source protocol connecting the human economy with the machine economy by facilitating Machine-to-Machine (M2M) interactions, including secure data transfer, feeless micropayments, and secure access control for devices.
IOTA says that while the cost of transactions on other blockchains makes notarizing small information exchanges,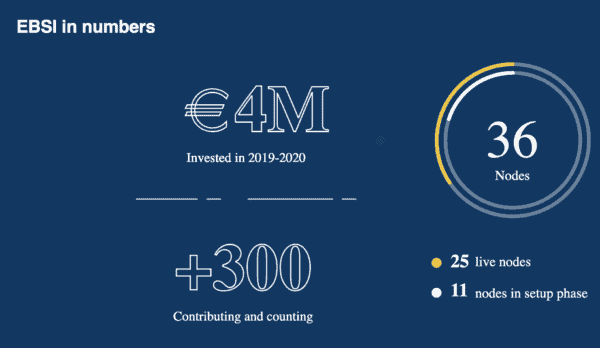 such as the cost of stamping a single document, prohibitive its blockchain is not.
Dr. Serguei Popov, co-founder and Member of the Board of Directors of the IOTA Foundation, stated:
"Creating a blockchain network on a continental scale is an ambitious and technically challenging endeavor – just the kind of project IOTA has been built for. The EU is taking a massive step towards fulfilling its digitization goal, and we look forward to the opportunity to contribute our production-ready technology to this momentous development that will change the way trustworthy information is shared across Europe and beyond."
IOTA is one of a handle of blockchain technologies selected by the European Union.
Since 2018, 29 European countries and the European Commission have worked to form the European Blockchain Partnership (EBP). The goal is to tap into the potential of blockchain-based services for the benefit of its citizens and the economy.
The vision is to utilize blockchain to the build cross-border services for public administrations and their ecosystems to verify information and make services trustworthy.
Since 2020, EBSI is deploying a network of distributed blockchain nodes across Europe, supporting applications focused on selected use-cases. EBSI is the first EU-wide blockchain infrastructure.