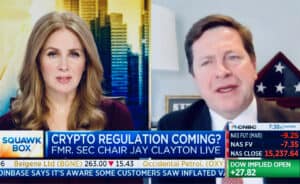 Former Securities and Exchange Commission Chairman Jay Clayton visited with CNBC yesterday to discuss meme stocks but he also had the opportunity to share his opinion on crypto.
During the show, Clayton professed that he has, "long believed that the rules in that area are fairly clear and longstanding."
"If you are raising capital publicly for a project, you generally have to register those sales, that capital raising, with the SEC. If you are trading securities, it needs to be done at a regulated venue. There are many other aspects of crypto, stablecoins that are not securities, or other tokenized elements of our society that are outside the SECs purview. "
Clayton added that he is a "huge believer in this technology."
"I think that the efficiency benefits in the financial system and otherwise from tokenization are immense."
Clayton said he expected the government to be reactive when it comes to people violating the law but proactive when it comes to encouraging the adoption of this technology throughout the financial system. He added that there are billions of tokenized transactions taking place each day.
Asked about the ongoing legal battle between the SEC and Ripple, Clayton declined to comment on the lawsuit. During the last days of his leadership at the SEC, Clayton's team filed the action against Ripple regarding the issuance of XRP – a move that has infuriated its supporters.
Following his exit from the SEC, Clayton returned to the law firm of Sullivan & Cromwell where he is  Senior Policy Advisor and Of Counsel.
"I am a huge believer in this technology," says Jay Clayton on #crypto. "The efficiency benefits in the financial system and otherwise from tokenization are immense." pic.twitter.com/WZqKE5cePN

— Squawk Box (@SquawkCNBC) December 15, 2021
Sponsored