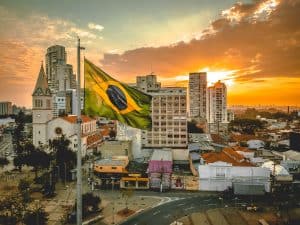 BBVA (NYSE: BBVA) has reportedly agreed to invest $300 million (around €263 million) in Neon, a Brazilian digital bank founded in 2016 that aims "to improve access to financial services for individuals, self-employed and small businesses in its country."
Neon claims 15 million registered accounts. The investment takes place in "a context of unprecedented technological disruption, with solid growth of digital and innovative models, particularly in financial services."
In addition to a commitment to innovation, this investment enables BBVA to gain exposure to retail banking in Brazil, "a market with one of the highest potential in the world."
With this latest investment, BBVA acquires a 21.7% stake in Neon. The Group hs held a stake since 2018 via its VC fund Propel. Following this deal, BBVA's stake will total 29.7% of Neon.
Neon represents a new step in BBVA's strategy "to enter new markets through investments in digital platforms." The announcement pointed out that Brazil is "a very attractive market given the size of its economy (8º in the world and 1º in Latin America), its large population (more than 210 million people) and the development of interesting propositions in the digital financial services arena."
BBVA Chair Carlos Torres Vila said:
"The commitment to innovation is part of BBVA's DNA, and digital is opening new ways for us to grow in very attractive markets. Neon's value proposition connects with the financial needs of Brazilians serving as a platform to continue to grow rapidly in a market with great potential."
The deal with Neon adds up to other investments by BBVA in digital platforms, like Atom Bank in the United Kingdom and Germany's Solarisbank.
Recently, BBVA entered the Italian retail banking market "with a 100% digital offer, based on its award-winning app, which has been recognized as a leader in digital experience in Europe for five years in a row."
Neon was established in 2016, "aiming to offer a simple, and competitive alternative compared to the traditional Brazilian banks." Via a unique product offering –including free checking accounts, debit and credit cards, payroll loans and specialized products for small businesses– Neon has "set itself apart from the competition with a focus on the individuals, self-employed and small businesses."
Since its creation in 2016 and prior to BBVA's investment, Neon had acquired $423 million from investors via several financing rounds. Its shareholders "include General Altlantic, Vulcan, BlackRock, Paypal and Banco Votorantim."
Neon's management team "includes founder and CEO Pedro Conrade and executive managing partner Jean Sigrist, who will continue to lead the company."
Neon founder Pedro Conrade added:
"BBVA's investment and global expertise will allow Neon to offer loans in a more simple, sustainable and inclusive way. We want to reach more Brazilians, contributing to reducing inequalities and making a difference in their lives. Neon will continue to grow rapidly, while delivering on its purpose,"
Share subscription and payment are expected "to take place in February. The transaction will have a capital consumption of about 10 bps in BBVA's fully-loaded CET1 capital ratio.