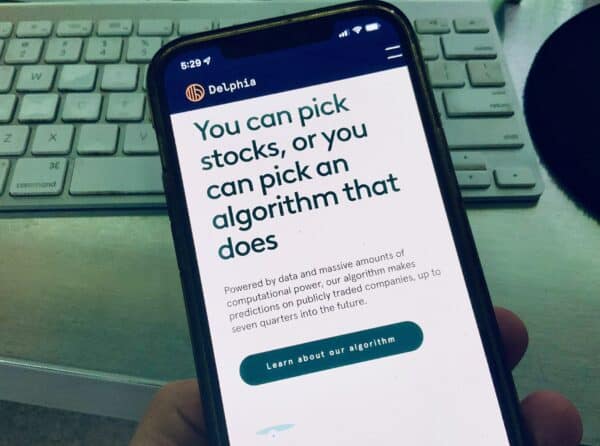 Delphia, a company that says it has built a better "Wall Street caliber algorithm" to help you generate better investment returns, has raised a $60 million Series A funding round.
The new investment was led by Multicoin Capital with participation from Ribbit Capital, FTX Ventures, Valor Equity Partners, FJ Labs, Lattice Ventures, Cumberland, Thomas Bailey from Road Capital and M13.
In a series of tweets, Delphia explained the funding will allow anyone access to the algorithm if they contribute data or money. Delphia explained:
"Delphia's investment platform plans to leverage consumer spending insights, employment patterns and public opinion data derived from social media to deliver algorithmic models that were previously exclusive to top-performing hedge funds. Delphia's members can soon contribute their data to the algo-advisor in return for a native token that can be traded freely or redeemed for membership benefits. We expect the token to help us improve the stock selection algorithm for all the participants in our ecosystem."
In a release, Andrew Peek, CEO of Delphia, said that retail investors are currently forced to either invest in passive Robo-advisors that are designed to achieve average returns, or they can pick stocks where they're up against the best hedge funds in the world.
"Delphia gives investors a third choice in the form of a mobile-delivered algo-advisor that leverages machine learning models designed by top hedge fund professionals, expanding access to elite financial products for retail investors."
Delphia plans to leverage consumer spending information, employment patterns, and public opinion data derived from social media to power algorithmic models. Delphia's investors will soon have the opportunity to contribute their own data to the "algo-advisor" while receiving a native token that can be redeemed for benefits or traded.
For users, the algo does the research for you – of course with the expectation it will perform better than your selections. Delphia caters to both retail investors as well as more sophisticated, accredited investors.
Tushar Jain, Managing Partner of Multicoin Capital, commented:
"Delphia is a first mover in an exciting new trend of Data DAOs that seek to harness user-owned data to benefit those users. By carefully aligning incentives and collecting otherwise inaccessible data, Delphia has created a sustainable market edge that actually gets stronger with every new user that joins the platform. Data DAOs will become forces to be reckoned with in capital markets as the gap widens between data sources publicly available for purchase and proprietary data sources that can only be managed by DAOs and for the benefit of those DAOs."
Delphia's HQ is in Toronto.  Delphia (USA) Inc. is registered as an investment adviser.
The app is currently available for download on both the App Store as well as Google Play.