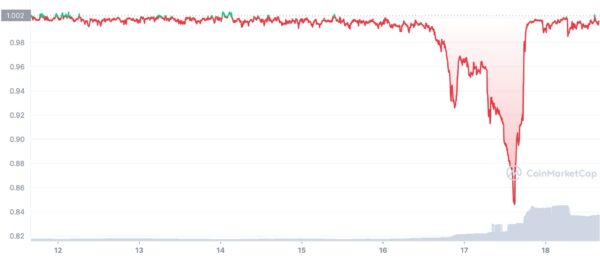 HUSD, a dollar-based stablecoin, lost its dollar peg yesterday during heavy trading. HUSD is a relatively small stablecoin with a market cap of around $160 million.
According to Coinmarketcap, HUSD dropped to as low as $0.8483 on August 18th. As of now, HUSD has recovered, trading around $0.9979.
According to Stable Universal, the issuer of HUSD, it is a fully backed stablecoin with reserves held in cash and money market funds.
While HUSD is supported by Huobi – the crypto exchange jumped in to stabilize HUSD; apparently, Huobi does not have a stake in the issuer.
In an email distributed by PR representatives,  the loss of the dollar peg was explained as follows:
The debacle surrounding HUSD's depeg from the U.S. dollar started at around 10:00am on August 18, when Huobi detected abnormal fluctuations in the price movement and trading volume of HUSD. At 10:10am, Huobi Global contacted Stable Universal to identify contributing factors and discuss stabilization measures, with major details nailed down by 10:30am.
The depegging of HUSD, which fell almost 15% below its dollar peg at one point, also resulted in liquidity issues for the stablecoin in the market. Market insiders have observed swift actions in response to the de-peg from Huobi. Firstly, Huobi Global posted a message on its official Twitter account to highlight its awareness of HUSD's liquidity issues, while the team at Huobi Global worked with HUSD's issuer to find a solution to restore its stability.
After discovering the liquidity issues, Huobi Global also enabled its users to freely convert HUSD to other stablecoins such as USDT or USDC, without any restrictions.
The liquidity issues proved to be short-lived as HUSD's price started to rebound from around 10pm the same day – around 12 hours after the crisis started. By 2am on August 19, HUSD had reverted to its dollar parity. HUSD also posted a message on its official Twitter account the next day, on 19 August, to reassure the market that the liquidity issues surrounding HUSD had been resolved and the stablecoin's peg restored.
HUSD also posted a Tweet about the de-pegging, noting they had closed certain accounts.
Recently, we had made the decision to close several accounts in specific regions to comply with legal requirements, which included some market maker accounts. Due to the time difference in banking hours, this resulted in a short-term liquidity problem but has since been resolved.

— HUSD (@Stablecoin_HUSD) August 19, 2022
The drop in the price of HUSD drew comparisons to TerraUSD – an algorithmic stablecoin that failed but HUSD is now trading around parity, whereas TerraUSD effectively went and stayed at zero.
While it is not entirely clear as to why the value drop was so fast and precipitous, you do have to wonder if there was a ploy to generate fast returns.
The stablecoin sector is poised for greater regulation which most industry participants believe is necessary to drive credibility and user confidence.
After #Huobi's active coordination with the issuer of HUSD, the liquidity issues of the stablecoin have been resolved. Huobi has always prioritized the security of users' assets and we thank our loyal users for their support and trust.

— Huobi (@HuobiGlobal) August 19, 2022