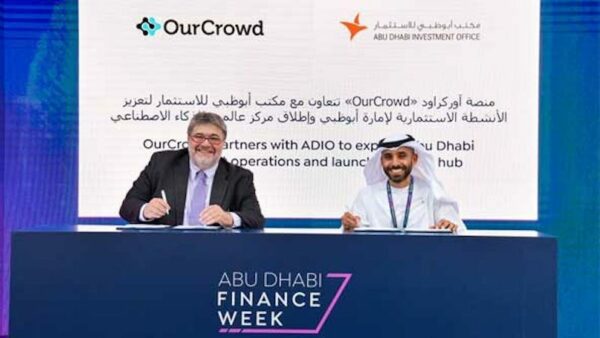 In partnership with the Abu Dhabi Investment Office (ADIO), OurCrowd has announced the launch of a global artificial intelligence (AI) hub.  Based at Abu Dhabi Global Market (ADGM)  Hub71, the AI hub has been named Integrated Data Intelligence Ltd (IDI) and will develop easily adoptable AI solutions for business.
ADIO has provided OurCrowd with a package of financial and non-financial incentives to accelerate its growth in Abu Dhabi.
IDI will be led by Dr. Hasanat Dewan, who was previously engaged with technology transformation in an executive capacity for firms like E*TRADE Financial Corp., BNY Mellon, Russell Investments Group, Merrill Lynch, Deutsche Bank, and Morgan Stanley.
At the same time,  OurCrowd said it will expand its team based at ADGM to 60 over the next four years, as part of a $60 million investment by the company. OurCrowd Arabia is also establishing a new VC investment center in Abu Dhabi to manage deals for its existing platform and cater to emerging markets.
The two announcements were revealed during Abu Dhabi Finance Week.
The investment and partnerships were enabled by the successful Abraham Accords, which were signed in 2020. OurCrowd was an active supporter of the breakthrough diplomatic agreements.
Jon Medved, founder and CEO of OurCrowd, said in a company statement that they had initiated a global search for the best location for IDI and OurCrowd's new investment center. He said that Abu Dhabi was by far the best location adding that the World Economic Forum ranks the UAE as first in the world for e-infrastructure and macroeconomic stability.
"These factors, with numerous other advantages including global talent and market access, underscore why Abu Dhabi is now home to OurCrowd Arabia and OurCrowd's new AI spinoff, and why we will continue to invest in the innovation infrastructure and talent in the country," said Medved.
Eng. Abdulla Abdul Aziz AlShamsi, Acting Director General of ADIO, commented:
"OurCrowd is a great example of a company that has benefitted from Abu Dhabi's enabling ecosystem to achieve accelerated growth. In just a year, OurCrowd has moved from an initial license to an established market player, with its new investment center and tech hub bringing additional VC and tech specialism to Abu Dhabi and expanding the availability of solutions and technology to companies."
Dr. Dewan described IDI as the culmination of OurCrowd's strategy to revolutionize its platform with AI functionality.
"We intend to leverage these tools and architecture to deliver AI solutions that can be broadly used by external clients across industries including Financial Services, FinTech, Energy, Telecommunications, Healthcare and Government," Dewan stated. "We are recruiting the best talent from within the UAE and across the globe and to be a transformative catalyst for the AI ecosystem in Abu Dhabi."
The agreement was signed by Eng. Abdulla Abdul Aziz AlShamsi, and Medved, at Abu Dhabi Finance Week 2022.
ADIO established an office in Tel Aviv in 2021 to support Israeli companies looking to establish and expand their operations in the UAE capital.
OurCrowd is one of the largest investment crowdfunding platforms in the world, with $2 billion in committed capital. The platform enables smaller investors (accredited) to participate in promising private securities offerings, frequently alongside top VCs and institutions.