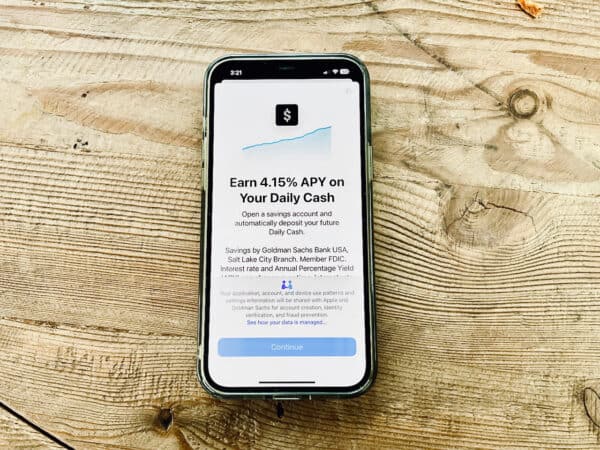 In recent days, Apple (NASDAQ:AAPL) announced its anticipated savings account in partnership with Goldman Sachs (NYSE:GS). Like all things Apple the process of creating a savings account is streamlined and seamless – taking less than one minute.  The savings account has launched with a solid 4.15% interest rate, deposited monthly, for users – topping (Goldman Sachs) Marcus' 3.90% savings rate.
To launch Apple Savings, you simply go to your Apple Wallet and click a couple of buttons, and you are done. Daily cash is deposited directly and starts earning interest – compounded daily, paid at the end of each month. Users may hold up to $250,000 -the cap on FDIC account insurance (for now) in partnership with Goldman Sachs Bank.
Ted Rossman, a senior industry analyst at Bankrate, told CNN that Apple is creating a "flywheel effect" – an "ecosystem of Apple Cash."
"It's very much a loyalty play because it's a multi-level process: To get the Apple credit card you need the phone, and to get the savings account you need the credit card. This isn't typical — if you go with American Express, you can get a credit card without opening a bank account." 
As was previously reported, there are no fees and no minimum amounts. You just need to be an Apple Card holder – which generates the Daily Cash. While Apple does not pay the highest rate, it is near the top, and the ease of usage makes it a top choice.
Apple Savings is another brick in the Fintech wall that Apple has been slowly building over the years as it looks to capitalize further on its entrenched customers, with the iPhone being the center of each individual's digital existence – now including finance. Apple already allows you to add your credit cards/debit cards to its digital wallet, along with a growing number of other digital cards, tickets, and identification. Apple Pay takes the top spot with teenagers, which bodes well for the future.
On the credit side, Apple offers Apple Pay Later, a BNPL or buy now pay later product that allows users to pay for purchases over six weeks with no interest. Going forward, Apple is expected to offer a longer-term credit product which makes a lot of sense.
It is pretty clear the roadmap will incorporate Apple investments – perhaps in partnership with Goldman Sachs, which has great brand recognition for being a top investment bank.
In effect, this is the foundation for Apple Bank. As customers tend to love their Apple products and services, this means old finance may see some migration away from their traditional services.
Apple Savings compared to certain other savings providers (subject to change).
Upgrade – 4.56% ( a balance of $1000 or more)
LendingClub – 4.25% ($100 minimum deposit)
Marcus – 3.90%
Citi – 3.85% (minimum balance of $500)
Revolut – 3.25% (standard accounts. premium/Metal accounts 4.25%)
Varo Bank – 3% (5% up to a $5000 balance)
Chime – 2%
SoFi – 1.2% (up to 4% with direct deposit configured)
Bank of America – 0.01%
Chase – 0.01%
KeyBank 0 0.01%
Sponsored