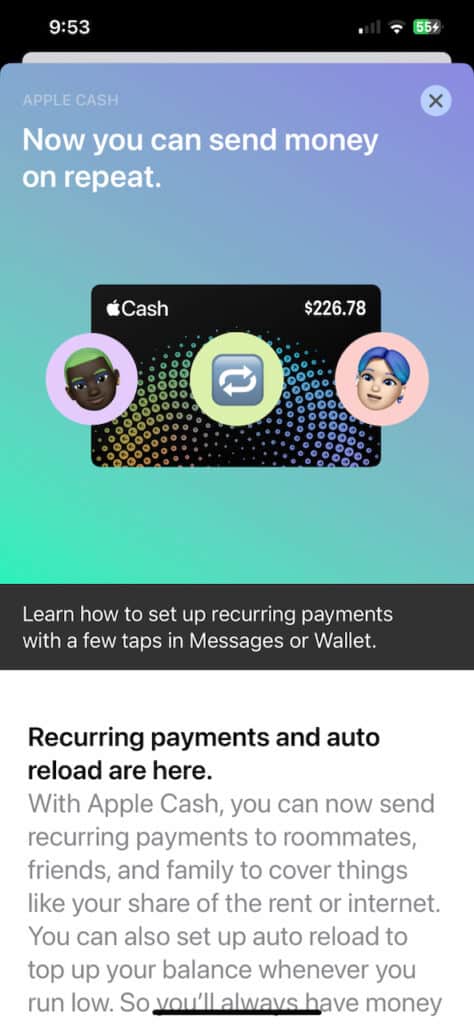 Apple (NASDAQ:AAPL) now allows its wallet users to schedule regular payments directly on the phone. The service has been expected for some time now and represents another step in its financial services goal of providing convenience for its users.
On the iPhone, Apple explains that users of Apple Cash may now "send money on repeat." Users may also set up "auto reload" so they can make certain the balance of cash is available to cover the expenditures.
While this may be a small step in the tech firm's Fintech ambitions, it is emblematic of Apple's overwhelming goal of driving value for users and making it super simple.
Apple already offers P2P transfers, the Apple Card, Apple Savings, BNPL, and the Apple Wallet, where you can add all of your cards with expectations for more services to follow.
Not too long ago, it was reported that Apple was moving forward with Apple Investments – but then pivoting to savings when the markets dropped. This is probably a temporary delay, as it makes a lot of sense to incorporate trading in the Apple ecosystem.
The one elephant in the room is Apple's partnership with Goldman Sachs (Marcus) which appears to be strained. Goldman has struggled to get its act together with consumer services to the point that reports indicate the investment bank is in full retreat. Just recently, Goldman sold newly acquired online lender GreenSkye at a loss. Goldman will report Q3 earnings tomorrow (October 17, 2023), which should shed some light on Goldman's near-term Fintech ambitions and its relationships with companies like Apple.