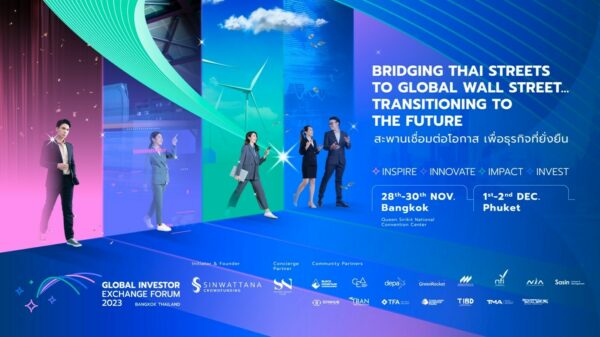 Sinwattana Crowdfunding Corporation Ltd organizes 'Global Investor Exchange Forum 2023 – Bridging Thai Streets to Global Wall Street…Transitioning to the Future' between 28-30 November at The Queen Sirikit National Convention Center (QSNCC), Bangkok, and 1-2 December 2023 in Phuket.
Thailand, renowned for its rich cultural heritage and commitment to innovation, is harnessing its abundant resources to address societal challenges effectively. A recent study has unveiled an in-depth analysis of the country's industrial development potential and its capacity to ignite the participation of Thai entrepreneurs in the global market.
This groundbreaking initiative aims to empower entrepreneurs by presenting them with opportunities to showcase their innovation, technology, and creativity while forging connections and fostering networks between Thai businesses and global investors. Central to this effort is the establishment of accessible financing avenues for startups and small and medium enterprises (SMEs) through a licensed Crowdinvesting mechanism.
By leveraging crowdinvesting as a powerful, innovative, and alternative tool, entrepreneurs will be equipped to propel their businesses forward. This approach not only supports the growth of individual businesses but also contributes to the broader economic ecosystem by nurturing a thriving entrepreneurial culture in Thailand.
This transformative endeavor underscores Thailand's commitment to fostering an environment where creativity, innovation, and entrepreneurship can flourish. Through fifteen strategic partnerships and collaborative efforts, Thai entrepreneurs are poised to make a significant impact on the global stage, driving economic growth, and solving real-world problems.
Ms. Hong Sin Kwek, the visionary Chief Executive Officer and Founder of Sinwattana Crowdfunding Corporation Ltd, has unveiled captivating insights regarding Thailand's immense potential to drive innovation and creativity. With its skilled workforce, robust production capabilities, and advanced digital readiness, Thailand stands poised to generate significant value and spearhead transformative developments.
"As we eagerly anticipate the upcoming Global Investor Exchange Forum, we recognize the immense value it holds for SMEs, startups, and investors. This event serves as a powerful platform for driving meaningful connections and fostering opportunities in the world of entrepreneurship and investment. We are honored to create this debut forum.
At the Global Investor Exchange Forum, SMEs and startups will have the chance to present their breakthrough concepts, disruptive innovations, and scalable business models to a diverse audience of global investors. This unparalleled networking opportunity allows entrepreneurs to forge partnerships, secure funding, and gain the necessary support to propel their businesses forward.
For investors, this event offers a unique window into the dynamic landscape of emerging ventures and promising startups. The Global Investor Exchange Forum provides a curated selection of investment opportunities, showcasing the potential for high returns and impactful contributions to various industries. This is an occasion for investors to engage directly with passionate entrepreneurs, explore innovative technologies, and align their portfolios with transformative ventures."
The forum is designed under the concept of the Integrated Investment Forum to gather startups and small and medium-sized enterprises (SMEs) that aspire to expand their operations on an international level. Through facilitating business cooperation, fostering strategic partnerships, and attracting investments from target countries, our goal is to ignite economic growth and foster mutually beneficial outcomes for Thailand and the global economy.
Bringing together more than 150 distinguished sector experts, renowned business leaders, global investors, and influential speakers from Thailand and across the globe, the event served as a dynamic platform for sharing visions, exchanging perspectives, and exploring future business models. With a focus on the four "I" core pillars of Inspire, Innovate, Impact, and Invest, participants will engage in thought-provoking discussions and share their valuable experiences, paving the way for transformative growth and fostering collaborations that drive positive change.
Uniting a multitude of brilliant minds dedicated to purposeful dialogue, this forum serves as a catalyst for investment-driven conversations. By bridging the realms of business and investment opportunities, it empowers entrepreneurs to refine and present their business plans to potential investors, fostering broad support and exposure. The forum acts as a launchpad for ambitious ventures, facilitating connections and providing a platform for showcasing innovative ideas to propel curated businesses forward.
The First Integrated Investment Forum in Thailand
The inaugural Global Investor Exchange Forum (GIXF) sets a remarkable precedent as the first-ever forum dedicated to fundraising through a crowdinvesting portal. It aims to galvanize the entire startup and SME ecosystem in Thailand, igniting a powerful movement toward transforming the global perception of Thailand as a highly investable destination.
With a resolute focus on integration, the GIXF serves as fertile ground for entrepreneurs, investors, and key industry players to converge, fostering collaboration and synergistic growth.
Commencing in August, the Global Investor Exchange Forum (GIXF) is proud to present a compelling lineup of workshops designed to empower and elevate SMEs and startups at various stages of their development. With an impressive roster of over 10 esteemed experts, these workshops will delve into a range of topics critical to business success:-
Business Branding, led by Sirikul Laukaikul, Ph.D., Advisory Committee GIXF, Global Chair, Brand Creation & Marketing Wing, G100, Country Director, Sustainable Brands Thailand, Founder of PorLaewDee,
Basics of Marketing and Brand Strategy for Social Impact Entrepreneurs, delivered by Prof. Dr. Tijs Timmerman, Utrecht University of Applied Sciences & Founding Partner at The Brand Faculty
Capital Structure & Valuation, presented by Mr. Krit Phanratanamala, Managing Director at Bualaung Venture
Impactful Investment Choice, by Mr. Jones Liew, CEO and Founder of Global Wealth & Joy
Franchise Strategy, by Sethapong Phadungpisuth, Founder of Gnosis
Unleashing your rebel talent: how to become a successful Innovator, by Simone Van Neerven, Founder of reBELLA, Channel Consultant from the Netherlands
And many more captivating sessions!
Participants in our comprehensive workshop series will gain a wealth of knowledge and practical skills across key areas vital to business success. From innovation to marketing, branding, and fundraising, attendees will unlock valuable insights and strategies. They will learn how to foster a culture of innovation, develop effective marketing and branding strategies to stand out in the market, and master the art of successful fundraising to fuel growth. This immersive workshop experience empowers participants to take their businesses to new heights, equipping them with the tools and expertise necessary to navigate the dynamic business landscape with confidence and achieve remarkable results.
Mark your calendars for the highly anticipated Global Investor Exchange Forum, scheduled to take place from November 28th to 30th, 2023. The prestigious event will be held at The Queen Sirikit National Convention Center (QSNCC) in the vibrant city of Bangkok, Thailand. This global gathering of industry leaders, investors, and visionaries promises three days of insightful discussions, networking opportunities, and impactful collaborations.
Following the main event, an exclusive second part will take place on December 1st, 2023, in the beautiful coastal destination of Phuket, Thailand. This segment is specifically designed for invited guests and exclusive investors, offering a more intimate and focused environment for in-depth discussions and strategic partnerships. With its strategic location and prestigious lineup of speakers and participants, this event is set to be a landmark occasion for both Thailand and the global investment community. Save the dates and join us at the Global Investor Exchange Forum for an exceptional experience that will shape the future of investments.
About the Global Investor Exchange Forum (GIXF2023):
The Global Investor Exchange Forum is a renowned platform that connects global investors, industry leaders, and entrepreneurs to drive innovation, collaboration, and investment opportunities via Sinwattana Crowdfunding Corporation Ltd, a licensed investment portal by the Securities Exchange Commission of Thailand. GIXF2023 aims to facilitate knowledge sharing, foster meaningful connections, and inspire positive change within the investment community. With a focus on sustainability, GIXF2023 is committed to promoting environmental stewardship and creating a more sustainable future for all in support to Startups and SMEs
About Sinwattana
Sinwattana Crowdfunding is the pioneer in Thailand for Equity Crowdfunding since 2018, approved by the Securities Exchange Commission of Thailand (SEC). Our focus and coverage address the hot sectors of BCG, ESG, technology and innovations. We provide support to its portfolio companies by creating growth opportunities through its network of strategic partnerships. Our goal is to revolutionize the business economy by providing alternative sources of funding, organized around the belief that "Funding Together!" empowering genuine businesses and investors, who strive CHANGE to generate IMPACT for a SUSTAINABLE FUTURE.