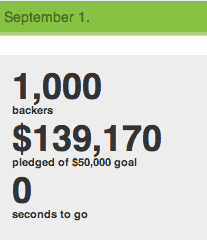 Fully Crowdfunded project POP by design house Edison Junior achieved their Crowdfunding dreams on September 1st of this year.  The original goal for funding was a $50,000 target – the proceeds of which were to take to market their product POP also known as Portable Power. Their Kickstarter campaign was launched and they quickly surpassed their goal – funded by hundreds of enthusiastic supporters.  Their final tally was in excess of $139,000.
As the growing number of electronic gadgets fill everyday life there seems to be a never ending need for chargers and outlets – iPhones, iPads etc.  Edison Junior recognized the problem and had the solution to fill the needs of  users everywhere:
…batteries in our mobile devices have not been able to keep up with the increased usage.  As a result, we often find ourselves looking for places to charge.  But many times, convenience and charging do not go hand in hand. At the Edison Junior Design Laboratory, we developed the perfect solution to this problem.  POP, aka "Portable Power", is an all-in-one charger with retractable cord reels for simultaneously charging multiple devices.
Yesterday, December 20th, Jamie Siminoff the Project leader and CEO of Edison Junior, released POP Update #8 to all their "Loyal Backers" announcing that Edison could "no longer fulfill its true promise",
When Apple officially announced the move to Lightning we determined the best courseof action was to incorporate two Lightning chargers, and two 30-pins (along with the four micro-USB's). After applying to Apple (which is now required for Lightning), we learned that they are no longer willing to approve a product that uses the Lightning charger alongside any other charger (including their own 30-pin – seriously). Just like that, POP could no longer fulfill its true promise.
And just like that a previously successful Kickstarter crowdfunding has now been killed. More than a few POP backers will probably be sending the proverbial lump of coal to Apple but  a few positive notes may be taken from this experience.
Edison has announced they will be refunding 100% of all funds:
Providing full refunds means the company will have to absorb a hit for both credit card (3%) and Kickstarter fees (5%) totaling over $11,000. Today, in an unprecedented move, Edison Junior has asked Kickstarter for the 5% fee they collected back, based on the circumstances; however regardless of their decision, all backers will receive 100% of their money back.
Response from backers has been mixed at best. Many supporters were surprised the project did not go ahead with the 30-pin option instead of succumbing so easily to Apples migration to Lightening.  Of course some frustration was pointed at Apple too.
An additional twist to the plot was injected when Siminoff migrated the refund process to his own Crowdfunding platform – Christie Street.  This new entrant to the Crowdfunding portal world was just recently launched earlier this month.
As you know, the new crowdfunding platform was launched a few weeks ago at Le Web. Christie Street is for products only – and carefully vets each invention before launch to ensure that they are feasible and credible. Christie Street is designed to handle needs that can arise from products – such as refunds – in order to prevent compromised products from being delivered.
We are certain this is a story which will continue and evolve.  If you have any interesting feedback please be certain to share below or email us at [email protected]

Sponsored Links by DQ Promote