Seed&Spark is a trail blazer in the film crowdfunding movement launching one of the first pure film crowdfunding sites in the hot  crowdfunding film industry.  Aiming to disrupt and support independent film, Seed&Spark has continued to grow, add features and expand.  Recently they shared some of the success they have experienced over the past few months.
According to Emily Best, Seed&Spark Founder and CEO,
They have had 19 projects start and 10 succeed so far. This has generated a 53% success rate of a small sample size.

Six of ten projects raised more than 95% of their budget, and 2 of those projects raised over 100% of their budget.

 Average raised per project was $18,479 in cash, goods and services. Highest raise was $33, 646, all of which was cash. 

900 Supporters (total) contributed an average of $205.32 each in cash, goods, and services.

Other crowdfunding sites typically see a 40-45% success rate of funding campaigns. Their sample size is small, but they are encouraged by 53% success rate on a new platform right out of the gate. 

Filmmakers are keeping on average 3-5% MORE of their cash raised on our site than other sites. If you count loans (on which we take no fee) filmmakers are paying less than a 3% fee on their crowdfunding

The average supporter contribution to film on other sites is about $103.00. On cash alone, our average contribution is $118 per supporter, and $205 if you count the loans of goods and services.
Seed&Spark currently has 5 film projects crowdfunding now, one of which is a film festival.
For independent film lovers this is a must visit site.  The platform allows for films to be financed and supported –  but also visitors may view films as well.  For a small fee – or credits (sparks) accrued – you can watch a full length feature film on the Seed&Spark site.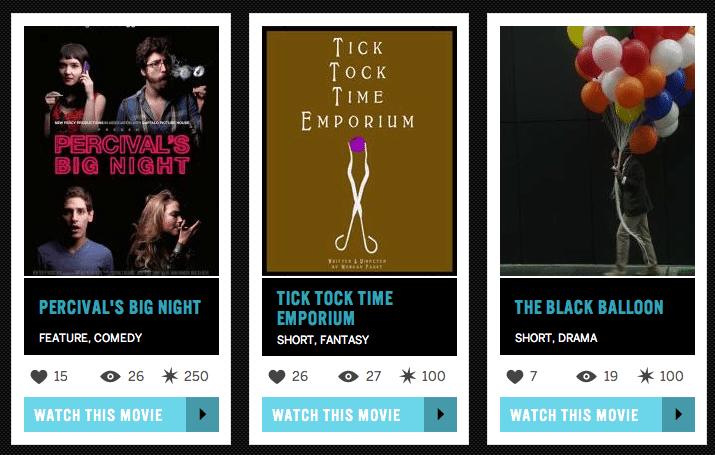 Sponsored Links by DQ Promote