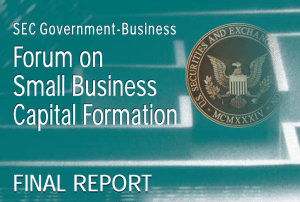 The SEC yesterday announced the release of the final report from their Forum on Small Business Capital Formation for 2012.  The Forum included discussions regarding the implementation of the Jobs Act and elements of crowdfunding.  The announcement was distributed by Chief of the Office of Small Business Policy Gerald J. Laporte to interested parties.
During this past years forum there were three break out sesions.  The third sessions was specfically on crowdfunding, which was co-moderated by Sara Hanks and Vincent Molinari both recognized as leading voices in the crowdfunding industry.
The SEC plans on conducting a similar forum later in 2013. Details have not yet been announced.
The SEC hosts this annual event that focuses on the capital formation concerns of small business.  The gathering has assembled annually since 1982, as was mandated by the Small Business Investment Incentive Act of 1980.
A major purpose of the Forum is to provide a platform to highlight perceived unnecessary impediments to small business capital formation and address whether they can be eliminated or reduced. Each forum seeks to develop recommendations for government and private action to improve the environment for small business capital formation, consistent with other public policy goals, including investor protection.
The report in its entirety is below.
[scribd id=139338012 key=key-1w4oba2fy5n8zn9eq4z6 mode=scroll]