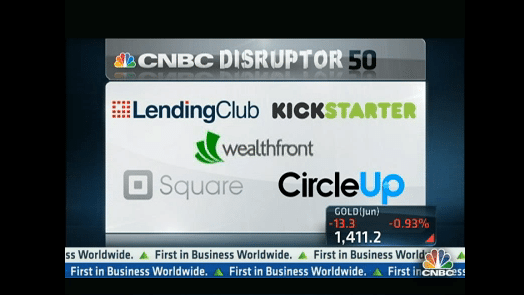 All this week CNBC will be sharing their list of 50 disruptors.  Crowdfunding platforms CircleUp, LendingClub and Kickstarter have made the list of a new companies which are shaking up their sector – financial services.  LendingClub has recently hit front page headlines with the $125 Million investment for tech powerhouse Google.
Kickstarter and CircleUp are included for their ability to connect ideas with investors.  Kickstarter, a rewards based platform, has led the crowdfunding field raising well over a half a billion dollars to date.
CircleUp, a platform for accredited investors, focuses only on consumer products companies.  CNBC states that CircleUp has aided a dozen small companies raise over $10 Million to date and they expect those numbers to grow as crowdfunding expands.  Key investors include; Google Ventures, Union Square Ventures and Maveron.  CircleUp caught the business worlds attention early when Clayton Christensen, noted business intellect and author of the "Disruptive Innovation" series, became an early equity investor.