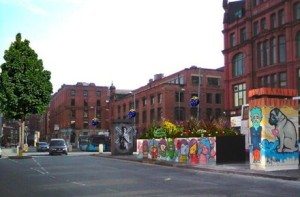 NAMES, wedding dates and declarations of love cover the Luchtsingel, a new pedestrian walkway straddling a busy main road in central Rotterdam, a Dutch city. Asked by a website to help fund the project, locals paid €25 ($32) each for the right to etch a message on one of its 17,000 wooden planks.
The walkway's length, they were warned, depended on the volume of donations. Within three months do-gooders had stumped up a third of the cash needed to build its full 350-metre span (a government award has since topped that up). Had they left council bean-counters to plan it, says Kristian Koreman, its architect, Rotterdam's residents might have waited two decades to get their bridge off the ground.

Civic-minded citizens have long propped up ventures that authorities covet but cannot afford. In 1885 cash from more than 120,000 Americans helped New York build the pedestal for the Statue of Liberty (Joseph Pulitzer, a newspaperman, led the whip-round). Now, as cash-strapped councils slash their budgets, locals are again relying on private gifts to spruce up parks, playgrounds and public loos. Web start-ups inspired by Kickstarter, a crowdfunding site which helps artists, game-designers and gadget-makers find patrons, are helping locals raise cash for improvements to their neighbourhoods.