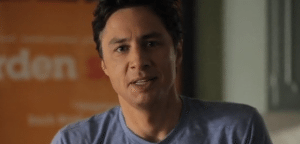 It's the story that won't die.
Worldview Entertainment has stepped into the frey with Zach Braff's upcoming release Wish I Was Here. The movie, a spiritual successor to Braff's hit Garden State, is currently crowdfunding on Kickstarter. It sits at $2.6 million pledged with a week left on the clock.
Worldview Entertainment will provide gap financing, bringing the total financing for the movie to around $10 million. For those not yet privvy to the intricacies of film financing, (raises hand) Wikipedia to the rescue…
Gap/Supergap financing is a form of mezzanine/ senior debt where the producer wishes to complete their film finance package by procuring a loan that is secured against the film's unsold territories and rights. Most gap financiers will only lend against the value of unsold foreign (non-North American) rights, as domestic(North American: USA & Canadian) rights are seen as a "performance" risk, as opposed to more quantifiable risk that is the foreign market. In short, this means the foreign value of a film can be ascertained by a Foreign Sales Agent by evaluating the blended value of the quality of the script, its genre, cast, director, producer, as well as whether it has theatrical distribution in the US from amajor film studio; all of this is taken into consideration and applied against the historical and current market tastes, trends, and needs of each foreign territory of country to produce estimates of the sale price of the film in each foreign territory – termed Sales Estimates. Studies have shown that on larger films (i.e. costing over $10M), there is a strong correlation between the sales estimates and the revenues actually received from the sale of the film. US domestic distribution is less predictable, though it can also be more lucrative, particularly for equity investors with US distributor relationships.

A gap loan is sometimes termed "supergap" when it extends beyond 10-15% of the production budget.
So why is the crowd up in arms? Simply put, Worldview Entertainment stands to gain financially from the movie. As the crowd was left with one option – backing on Kickstarter – their return is limited to tchotchkes and thank yous.
I reached out to Zach Braff a while back in an effort to explore the viability of equity crowdfunding in the world of film finance but never received a response. Having said that, it is hard to imagine that an equity crowdfunding round would have been a smart move on Braff's behalf anyway as raises are to be capped at a million dollars. Why would a film producer take on as many as a couple thousand investors for a million dollars of capital when he or she could sell preorders on Kickstarter and later back it up with a round from a more traditional single source?
Of course, all of this is moot as the SEC has yet to even propose rules for equity crowdfunding in the United States. Perhaps a 506 offering may have made sense, but again we wait. The ban on general solicitation remains.
It seems Braff's proverbial hands may have been tied.
Have a crowdfunding offering you'd like to share? Submit an offering for consideration using our Submit a Tip form and we may share it on our site!