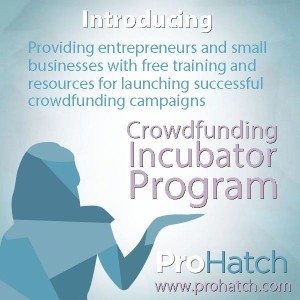 Announces Registration  for Web Series Event "Crowdfinance and Women Owned Enterprises"
ProHatch goes live with reward campaigns from the 1st monthly web event in its 2013 Incubator Series. Following 6 weeks of intensive preparation, these innovative social and business enterprises will begin fundraising for the first 30-day phase of their project on ProHatch's one-of-a-kind Phase-To-Raise™ crowdfunding platform. Incubator campaigns will be launching for funding throughout the week, beginning May 15th.
"Without the one-on-one support and step-by-step webinar series that ProHatch provides, our campaign would have remained an idea. The guidance we received from ProHatch is definitely a major factor in our creating buzz for our campaign. Their services instill the type of confidence you get only when you know you're fully prepared," says Mikaela Louve, President of Louve Notes Media. 
Additionally, ProHatch's second web event in the 2013 Incubator Series was announced and will focus on the special interests of women entrepreneurs as they develop a crowdfinance capital strategy and execute a crowdfunding campaign.
Prohatch will demonstrate how a reward campaign can be a powerful step in both the traditional and crowdfinance capital ladders that take enterprises from ideation to IPO, and build a sample campaign using Phase-To-Raise. The audience for this month's web event are women who own, operate or service enterprises challenged by access to capital formation for growing their business, 501(c)(3)s, social impact and community projects.
"It's a well-known statistic that less than 5% of traditional capital and less than 3% of VC capital is invested in women owned and operated enterprises. Clearly women need alternative paths to capital, and Crowdfinance is that path; from ideation to IPO," says Liz Kulik, co-founder and CEO of ProHatch. 

"As a serial entrepreneur and investor myself, I understand the challenges of creating, funding, operating, and growing enterprise value in a woman owned enterprise, and I bring those experiences to ProHatch. 

Our approach to crowdfunding as a crowdfinance ladder empowers women entrepreneurs and investors to focus our intrinsic competitive advantage as the de facto leaders of online network building and e-commerce to create a new and powerful Super Network of capital formation, enterprise innovation and resources.

As of today, 50% of the businesses financed by the crowd are women owned. This alone tells us the crowdfinance future for women is bright."
"Crowdfinance and Women Owed Enterprises" provides women with a strategic perspective on crowdfinancing as a capital ladder for their business, social impact and community enterprises, from ideation to IPO.
Focus Session topics will include:
Building a Crowdfinance capital strategy that aligns with enterprise goals and risk
Business plan review and recommendations
Building Customers with rewards and fulfillment
Developing a tiered Social Marketing and Broadcast Plan
Content and Investor Communication planning
Campaign building fundamentals training
Campaign review and recommendations
Sponsored Links by DQ Promote