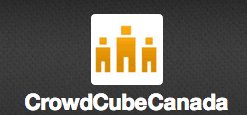 In a post on the Crowdcube blog, the UK based equity crowdfunding platform claimed some impressive statistics as their site continues to experience dramatic growth as it exemplifies the promise of crowdfunding.  For the first half of 2013, Crowdcube has crowdfunded £4.4 Million which is in stark contrast to the £2.7 Million raised for the entire year of 2012.  The funds raised supported 20 businesses.
Luke Lang, co-founder of Crowdcube says, "That's a whopping 524% increase and we're only at the start of June! In fact, we funded 25 pitches for a total of £2.7 million during the whole of last year – that's a huge leap and we've smashed our targets.
Out of the 25 successful crowdfunding pitches this year, 14 were for £100,000 or more.
Crowdcube shared their top pitches in 2013 to date:
In May, Crowdcube raised £1.5 million in just three days from 256 of its members.
The Rushmore Group, owner of three members' clubs in London, secured £0.5 million investment from 72 investors in April. This was the third time it had used Crowdcube, having previously raised £1.5 million
Lawbit, an online legal service providing simple contracts for small companies, raised nearly £400,000 from 177 backers in May.
Additional statistics for Crowdcube include:
£4.4 million raised so far in 2013 compared with £2.7 million in the whole of 2012.
Nearly £3.5 million secured in the last two months (April and May) alone, with eight businesses funded in May.
The biggest single investment through the platform is now £250,000, increasing from £100,000 previously.
Over 35,000 registered investors.
The platform has raised nearly £10 million for well over 50 businesses since launch in February