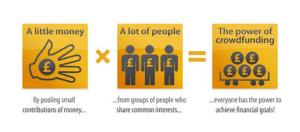 Having only launched in February 2011, equity crowdfunding platform Crowdcube has been making waves in the world of global finance ever since.
Having launched with 6 businesses lined up to raised equity capital, the team at Crowdcube never looked back since that day in February.  The platform started without formal regulation.  In fact the British regulators got around to actually regulating the process this year – almost two years after the site had launched.
Darren Westlake, co-founder of Crowdcube said at the time, "The task of securing business investment is notoriously difficult. Banks adopt a no-risk approach to lending while business angels and VC funding are difficult to access.

We are democratising an age-old model for raising business finance by empowering the 'crowd' to pool small amounts of investment money and give Britain's start-ups a much needed boost. Crowdcube is the next generation of business investment."
In many ways the UK has grasped more quickly than the United States the importance of crowdfunding in creating new avenues for capital allocation for SMEs.  The political class in the UK has largely embraced this new form of disruptive innovation which will completely alter the landscape of the financial industry.  Early in 2012, Darren Westlake was invited to Number 10 Downing street to discuss the importance of crowdfunding for the financial sector – giving a high profile political boost to the importance of equity crowdfunding for the economy.
Meanwhile across the Atlantic crowdfunding as defined by the Jobs Act, signed into law over one year ago, endures regulatory purgatory as equity crowdfunding platforms wait on the SEC to give the nod of approval.
Westlake was quoted further at the time of launch in recognizing the systemic importance crowdfunding will have on becoming the genesis for developing small business for the UK economy:
"Because Crowdcube gives people the chance to become 'Armchair Dragons' by investing modest sums of money in exciting business opportunities, small businesses have a better chance of securing funding for their businesses. We can crowdfund Britain's economic recovery."


Crowdcube, along with other UK based crowdfunding platforms, has experienced an incredible year.  In all of 2012 total equity raised hit £2.7 Million.  To date the platform continues to add new business offerings and closing equity rounds with a total raised standing at over £9.3 Million with the bulk of it  raised this year.  If you extrapolate this growth pattern going forward the results for equity crowdfunding in the UK will be incredible

With over 36,000 investors registered on the site, the popularity of crowdfunded offerings as distinct asset class is clear.  The only question remaining is how high will this new phenomena of equity crowdfunding will go.

Sponsored Links by DQ Promote