Fairstreet is another crowdfunding site in an ever growing field.  As the larger, established rewards based crowdfunding sites continue to capture the bulk rewards based projects,  there is still room for equity crowdfunding platforms to enter the fray with the ongoing delay by the SEC in allowing crowdfunding for the masses.  The first step for equity crowdfunding will be offerings for Accredited Investors followed by a popular crowdfunding application.
Fairstreet will start as a highly selective reward based platform but is currently prepping crowdfunding for accredited investors and intends to offer popular equity crowdfunding – which was legalized in the Jobs Act.


Recently  Fairstreet reached out to us to give us a better understanding of their strategy and they shared some of the thoughts on how they intend on growing.
First off – they want to be a quality site not just a quantity site so the Fairstreet team intends on doing their own due diligence up front for projects that list on their site.  The projects they select will be the ones that can capture mass appeal.
Fairstreet, based in New York, is crowdfunding within their own community first.   After establishing their platform in the greater New York area they intend on expanding their reach mainly driven by where our projects come from.  Currently there are quite a few projects we are reviewing from outside of the NY area.  But they believe that members of smaller communities better understand the local businesses and people in them.
One example of a recent crowdfunding success on the Fairstreet site is when Manhattan financial journalist Blaire Briody quit her job to pursue her dreams of investigative journalism, and traveling to North Dakota to report on a new age oil boom.
Working with media friends, Blaire and her team planned to document their reporting with a book and documentary, but in order to make this project happen, they decided to team up with FairStreet.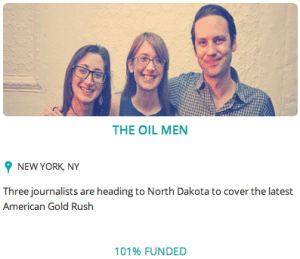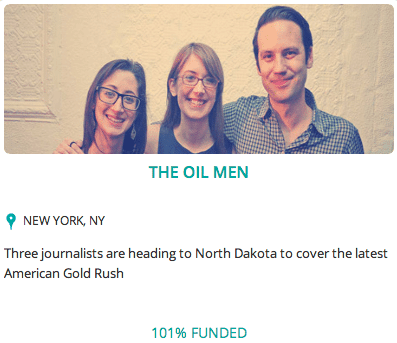 Says Blaire, " I went with FairStreet because of the support system they offered. The fact that believed in my project gave me the confidence I needed to move forward with the funding effort. Their encouragement and support has been phenomenal so far, and I don't think I would get that with any other crowdfunding platform."
Support for Blaire's campaing included having helped Blaire's project video. Their efforts to give Blaire's project the best chance for success led to her a partnership with Social Catalyst Inc, which matched contributions to her project once she reaches her funding goal of $10,000.
The Fairstreet founders decided to enter the crowdfunding industry after being involved in several small start ups which struggled to raise funds.  Seeing first hand the problem and comprehending the solution – crowdfunding – leading to discovery, understanding and, ultimately, resolve.
With Fairstreet they hope to change it so that the new entrepreneurs raise money because of their idea – not because of their contacts.
" FairStreet is a community funding platform where supporters can help entrepreneurs start up a dream. In terms of choosing projects, FairStreet focuses more on quality versus quantity by choosing campaigns that can add value to society. We currently have a rewards based platform and are  gearing up for equity crowdfunding this fall," says founder Vaibhav Sinha. 
Sponsored