Squareknot Looks to plug funding gap vacated by UK banks.
A group of determined Scottish entrepreneurs have launched a crowdfunding platform which offers a combination of equity, loan and reward based crowdfunding.  Squareknot's  site hopes to kick-start business funding for both start-ups as well as established businesses by providing fresh streams of loan and equity funding for companies currently being starved of finance by traditional lenders.  Squareknot is the first company of its kind based in Scotland.  The platform has launched with a number of  Scottish businesses raising funds.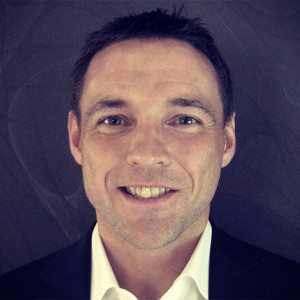 Derek Bond, Founder and Managing Director of Squareknot, says:
"Crowdfunding is filling the void left by the banks after they significantly reduced their lending to SMEs after 2008. A recent report by the Department for Business, Innovation and Skills revealed that SMEs have been disproportionately affected by the banks' revised attitude towards lending. As a result, there are countless SMEs in the UK with the drive and the opportunity to grow rapidly and make a real contribution to the economy but they simply can't access the finance they need to put their plans into action."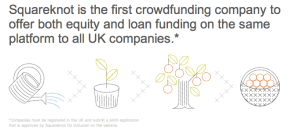 Recent research suggests that there are now more than 500 crowdfunding platforms available online, with the majority based in North America and Western Europe. Together, these platforms raised almost $1.5 billion and successfully funded more than one million campaigns in 2011. It is estimated that in 2012, overall crowdfunding investment grew by more than 90% to $2.8 billion. Investment in equity and reward based crowdfunding, in particular, grew by a staggering 300%.
Derek believes Squareknot has a unique business model that will let the platform stand out from its competitors. He says:
"The vast majority of the crowdfunding platforms out there deal  only with smaller donation based projects, while some of the others place restrictions on who can pitch for equity or loan funding. For example, Funding Circle, an established UK lending platform, requires companies to have two years accounts before pitching for loan funding, while  Crowdcube and Seedrs offer equity crowdfunding opportunities to start-ups and early stage businesses only."

"We're opening up the market by becoming the first crowdfunding platform in Europe, if not the world, to offer all three types of crowdfunding (reward, loan and equity) to all companies."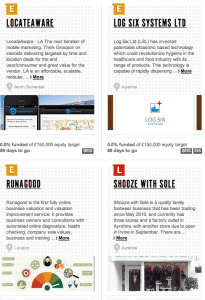 A robust range of businesses are already pitching for funding via Squareknot, including:
Squareknot is also aiming to target specific business sectors that have been particularly affected by the banks, for example – residential property developers, who have land and planning permissions secured, but can't access the funding they need to start building.
"In general, we are working with companies looking to raise between £50K and £300K," says Derek. "That said, we are also establishing relationships with business angels with a view to undertaking co-investment, which enables us to pitch companies looking for higher levels of funding that other crowdfunding platforms will not take on. We are effectively bridging the gap between business angels and crowdfunding and offering businesses the best of both options."
Derek believes that there are many high net worth individuals in the UK currently looking to explore alternative investment options:
"Equity funding in SMEs can offer tax incentives of up to 50% of the amount invested, and loan funding can offer interest rates significantly higher than current bank rates and most investment funds. We can provide investors with the opportunity to take advantage of both types of investment."
Squareknot was incorporated in September 2012, by Derek Bond, Brian Smillie Senior and Brian Smillie Junior after having conducted a comprehensive review of the crowdfunding landscape.

Sponsored Links by DQ Promote