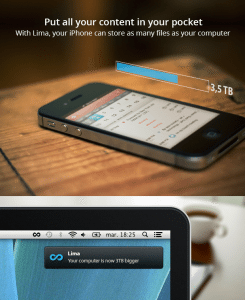 Lima – which was previously called "Plug"-  closed today on Kickstarter having crowdfunded an amazing $1,229,074 with the support of almost thirteen thousand backers.  The device had an original goal of $69,000 which seems paltry in retrospect.
The Kickstarter project had to alter the name of their device mid-stream as there was a copyright conflict. The campaign started on July 1oth and on August 6th the CGC team, the company who is running the project, announced the name change.
A bit of a drag to go through building the brand of your product all over again.  The pitch video was not redone so they just blanked the name every time it came up.  Kind of  funny.  Not too certain where the name Lima came from but as far as I am concerned the product solves a major problem which most people struggle with today.
iCloud from Apple was supposed to solve all of the syncing, storing, sharing of content from your many different iDevices.  Google and their apps takes a shot at it too.  But honestly they all fall short.  If you disagree please do share.  From the description on their Kickstarter page – Lima has found the solution.
Lima is a small device that connects to an external drive and automatically syncs all devices and allows you to access everything – anywhere.  This includes films, photos, documents you are working on.  So if you have hit the wall of the 16GB limitation for your iPad – no more worries. You now have access to your hard drive sized storage.  Sure you could pay lots of money to boost the size of your drop box account but – if you are like me – I have multiple external hard drives sitting around begging to be used.  Problem solved.
Supporters quickly saw the utility in this product and backed it in droves.  Twelve hours after launch Lima hit it's target of getting 1000 backers to contribute $69.00  Five days after their launch their goal was beaten and not by just a bit.  The campaign stood at over 5 times the targeted amount.   CGC quickly realized they were on to something big.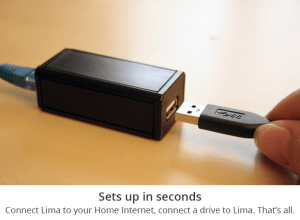 Stretch goals came in at the $600K, $750K, $900K and $1 Million levels.  They used different colors as additional rewards.  I am not certain h0w much the different col0rs helped but each level came and went to finally hit their closing amount today.
First shipments are presently scheduled for delivery December 2013.  Next batch will hit in April 2014.  The device is thought to retail for $150.00 once it hits Amazon or your local Best Buy. That is unless some company recognizes the simple solution CGC has created and scoops up this company as an acquisition.  (Hint Apple).
The CGC team was founded by Severin Marcombes and Gawen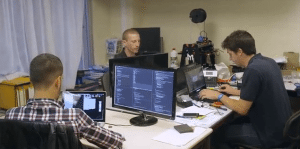 Arab-Laffon who met when they were at school together.  The Paris based pair had cut back on their classes to work for a hardware startup according to their bio.  It appears they are both involved in a French company ForgetBox which is probably the Euro version of the Lima product.  Regardless of how they are doing in France – the certainly have a successfully crowdfunded product on their hand.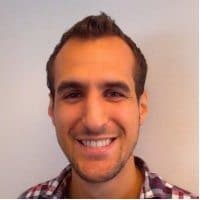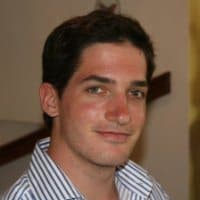 Have a crowdfunding offering you'd like to share? Submit an offering for consideration using our Submit a Tip form and we may share it on our site!