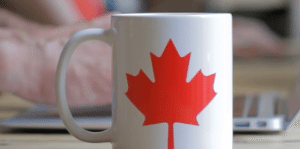 Kickstarter has been preparing to expand their platform North for some time now and today is the day when the crowdfunding platform officially opened to projects based in Canada.  In a posting to Kickstarter fans the site shared their excitement:
We're thrilled that Kickstarter is now available to creators in Canada. We've been waiting along time for this day to come, and we can't wait to see what creative projects our friends in the Canada will launch — films, art, games, albums, plays, performances, and much more. 
This new section of the Kickstarter platform launched with several dozen projects live.   At least a few were already funded.  Sandblox out of Toronto got to claim first Canadian project.
Features and functionality are similar to the US portion of the site with a few exceptions:
There is no Canada specific site.  Anyone may contribute to a Canada based project.
All projects are in Canadian Dollars (the Loonie).
Payments will be processed through a different processor than Amazon payments.
The 5% fee is the same.  No fee for unsuccessful projects.  Payment processing fee is similar to UK.
Kickstarter recently held a "Kickstarter School" in Toronto.  They plan on spreading the word across the country in the coming weeks so stay posted for future events hosted by Kickstarter in Canada.