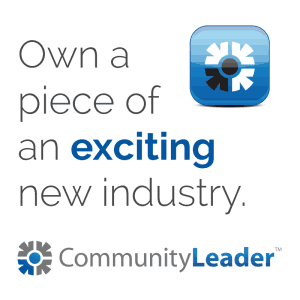 Crowdfunding portal software provider CommunityLeader has decided to show the ultimate validation of their platform;  the company is self-crowdfunding for equity in their business.
In an email sent out to interested individuals,  CommunityLeader offered up their pitch:
I am writing today to invite you to become an investor in CommunityLeader. Over the past year and a half you have had an opportunity to see CommunityLeader emerge from a simple idea — connecting community-based business and capital — to a powerful innovator in the financial service industry. We have built a fully integrated white-labeled portal platform solution.

Today is your opportunity to be on the "ground floor" of the crowdfunding industry. Our platform is market tested — with a wide range of current clients using the solution in today's regulatory environment.It is ready to expand and grow with the rapidly changing landscape.
The San Mateo, California based company is offering $3 million in equity representing 500,000 shares at $6 per share.  The listing on their platform is open only to accredited investors with a minimum investment posted at $24,000.  The purpose for the raise is "general working capital".
Asked for comment, CEO and founder Joseph Barisonzi stated;
"The best way to demonstrate the robust nature of our whitelabled platform is to use it for our own companies 506(c) raise. Our entire team is committed to building a valuable asset for investors by providing a compliant, cost-effective and flexible solution to our clients. That story is best told on our platform."
Sponsored Links by DQ Promote