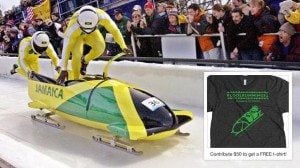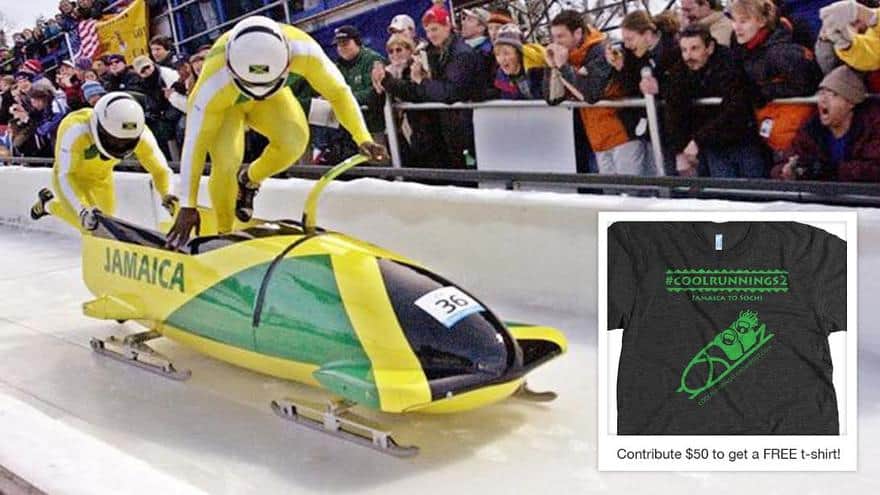 Well that did not take long.
The crowdfunding campaign on Crowdtilt now stands over $105,000 on the goal of raising $80,000.  Dogecoin, a peer-to-peer digital currency, and their 1600 members put together a $30,000 donation which boosted the amount over the $100,000 level.
"It is so exciting to see the Internet coming together to help this inspiring team from Jamaica fulfill their dream of competing in the 2014 Olympics. We've built Crowdtilt to make it easy for communities and groups to come together and are so thrilled every time we get to see something like this," said James Beshara, CEO and co-founder of Crowdtilt.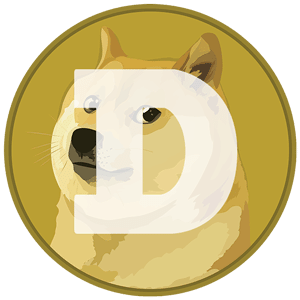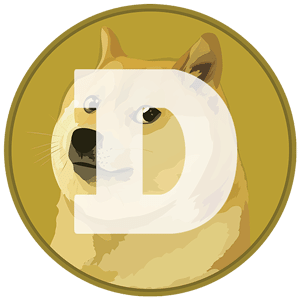 Jackson Palmer, co-founder of Dogecoin state,
"It's humbling to see people get together and do something so positive on the internet, and if we can promote that spirit through Dogecoin then I think our mission is complete."
The number of contributors has risen to over 2200 and the contributions keep pouring in. There are still 7 days left in the fundraising effort but there should be no doubt about the team heading to Sochi to compete in the 2014 Winter Olympics.    Apparently Lincoln Wheeler (original campaign manager) is a bit overwhelmed by what he started.  At this rate the Jamaicans may be able to field a second bobsled team.
Olympic Dream Come True
Winston Watts was a main catalyst for this whole dream come true event.  He competed in the Olympics from 1994 to 2002 and did not participate in the 2006 games after failing to qualify.  Lack of funds prevented the Jamaicans from attempting to send a team in 2010.  Watts, after moving to the United States in 2004 and living near where the US bobsled team practiced,  started thinking about getting back into the game – finally committing.  At 46 he will be one of the oldest participants in the Olympic event ever.  Now with the Jamaicans qualified to go and sufficient funds on the way the trip to Sochi is good to go.
With funding coming from all 50 states and at least 49 countries from around the world, I imagine there will be more than just the Jamaicans rooting for team captain Watts and his partner as they compete for a medal in this years Winter Olympics.
The campaign will remain open for donations until January 28th and contributions over $50 will get a commemorative t-shirt to show your support for the digitally embraced Jamaican team.
___________________________________________
UPDATE:  In an email notice to backers Devon Harris stated that all crowdfunding – on all platforms – would be stopped as of midnight January 20, 2014.  Funds are still being accepted on CrowdTilt, which stands at $114,286, but the time frame has been shortened to just one more day.  The Indiegogo campaign stands at almost $40,000 with 19 days left on the campaign.  In a backer update posted on the Indiegogo site Devon Harris stated:
Let me take a minute to say a big thank you to all the friends and well-wishers of the Jamaica bobsleigh team.
As some of you may have already heard in the press, once we are ready to travel to Sochi, the Jamaica Olympic Association will cover the team's airfare and the Sochi Olympic Committee, as they do for every athlete from every country, will cover our stay in the Olympic Village.
We are grateful for your overwhelming show of support.  The monies you donated will be used cover training expenses (food, board, traveling, track fees, etc), and equipment purchases as they team completes its final preparation for the Games. Funds will also be earmarked to ship the sled and related equipment to Russia.
I am happy to report that because of your generosity, we have reached our target much sooner than we anticipated.
With this, we have decided to stop accepting donations on all crowd funding sites as of midnight on January 20, 2014.
For those who may still be interested in support the team long term, we invite you to visitwww.jamaicabobsleighteam.com where you will be able to make a contribution.
We look forward to your continued support as we push forward to Sochi and beyond.
Keep On Pushing!
Devon Harris
Original team member"
(The Indiegogo campaign also shows the T-Shirt as being sold out)
Have a crowdfunding offering you'd like to share? Submit an offering for consideration using our Submit a Tip form and we may share it on our site!