The Worth Foundation has partnered with equity crowdfunding site Seedrs to create a fund to invest the United Kingdom's best young retail / e-commerce business.  The project was created in partnership with Metro Newspapers.  The investment sought was £200,000 but that was not quite enough as the goal was crushed in just over 4 days. Pretty incredible. The total now stands at £231,300 from over 200 investors from 6 different countries.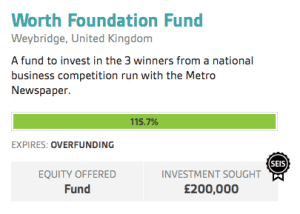 The idea is to have a competition, which is simultaneously featured in Metro Newspaper business pages, this month.  A call for entries has been initiated looking for a small company that has been in operation for less than 2 years with less than £250,000 in revenue.   A shortlist will be created for a final judging event will be held in London on April 4, 2014.
The process will be judged by a top notch group of business gurus including the following:
Michael Acton-Smith OBE, Founder of Mind Candy
Jeff Lynn, Co-Founder of Seedrs
Roger Wade, Founder of Boxpark
Jayne Atherton, Metro
Alex Johns, Worth Retail
Paul Soanes, Worth Retail

The winner will receive a cool £100,000 and the other 2 runners up will receive £50,000 – not a small amount.  Not certain where the overfunding of £31,300 will end up.  Worth retail will also provide mentoring support for the promising companies and a grant will be thrown in as well. Sounds like a great deal to me.

The result of the judging will be 1 winner and 2 runners up. The winner will receive £100k and the two others £50k each for stakes to be determined at the time of the investment. Each winning business will also receive a grant and free mentoring support from Worth Retail Ltd.  The overall winner will get to host their company at a pop-up shop at Shoreditch's Boxpark for one month too.
Worth Foundation Fund was set up by the founders of Worth Retail.  Apparently this is the only competition of it's kind.  It will most certainly be fascinating to see what creative concepts rise to the top over the next few weeks.  Now if we can just get crowdfunding fired up correctly in the States perhaps Worth and Seedrs could ship this competition across the Atlantic.