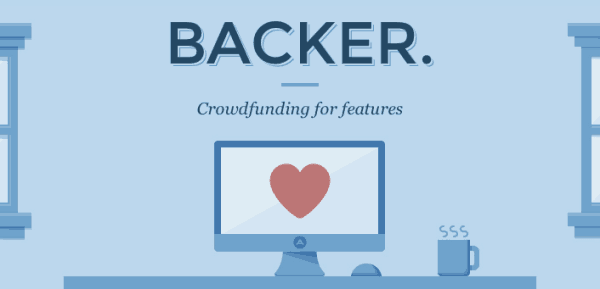 Earlier this week we reported on a crowdfunding campaign launched by Balanced. It's interesting in that it seeks to fund a new feature for Balanced's ever-evolving online payments platform. In this case – and despite the fact that this is still a rewards-based campaign – backers aren't individuals. Backers of this campaign are mostly comprised of businesses that use tech provided by Balanced.
It seems some think this could be a growing trend in the future, because yesterday App.net Founder and CEO Dalton Caldwell (@daltonc) announced the release of Backer, a crowdfunding platform specifically geared toward funding features for software products.
Introducing Backer: Crowdfunding for Features -> https://t.co/0yY2K4zWVL

— App.net (@AppDotNet) January 25, 2014
The release was accompanied by the launch of a campaign to fund and market test the addition of Bitcoin as a payment method on App.net. App.net is a "subscription-based, advertising-free social network and API" that was launched in 2012. It was launched largely as a response to privacy concerns regarding other social media stalwarts like Facebook and Twitter. In short, App.net promises to never sell user data.
Backer will be a curated platform, so not just any company or entrepreneur can launch a campaign. Funding is consistent with the all-or-nothing model on Kickstarter, for example. Interestingly, features for open source projects will not be subject to any fees whatsoever outside of typical credit card transaction processing fees. Of course, Bitcoin is an option here, too… and crowdfunders that accept Bitcoin can eschew any fees whatsoever, because Bitcoin transactions are processed for free.
This is going to be a trend to watch. Startups and small businesses hungry for feedback and a bit of marketing exposure could make use of crowdfunding to collect both, all while garnering some funding from their customer base.