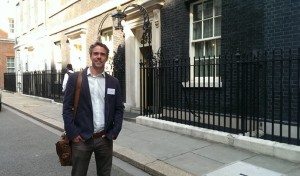 Co-founder of equity crowdfunding platform Crowdcube Luke Lang has commented on the UK budget announcement that occurred earlier this week.  While there were many positive aspects of Chancellor of the Exchequer George Osborne's presentation Lang indicated here were some areas that could stand for improvement.
We're delighted that the Chancellor has acknowledged the importance of the alternative finance sector in today's Budget," said Luke Lang, co-founder of equity crowfunding site Crowdcube.

"Alternative finance is a crucial step for many small and growing businesses that fall outside of the traditional bank loan but want to unlock access to the funds they need to prosper. However there is still more that the Government can do to support this nascent industry.

First, while it's great news that the Chancellor announced new tax relief for social enterprises and is making SEIS tax relief permanent, we'd like to see the £150,000 level (for 50% tax relief) raised to £250,000. Tax incentives such as SEIS and EIS  have been hugely important in driving investment in small businesses and we want these to benefit the businesses seeking larger sums of investment for growth.

Secondly, we'd like to see the some of the £300 million Investment Programme of the government backed Business Bank channelled into equity crowdfunding platforms to emulate the success it has enjoyed helping to boost the peer-to-peer lending market. Greater balance between debt and equity is vital for a healthy economy. We have a culture in this country for lending that ignores equity investment. This needs to change."

Crowdcube has noted that 42 of the 106 businesses raising capital on the Crowdcube platform have leveraged SEIS eligibility.  These companies have raised £5.5 million since the program was started.

Approximately 40% of all businesses funded via Crowdcube are eligible for SEIS.  Overall Crowdcube has helped 106 businesses raise more than £20 million since its launch in 2011.