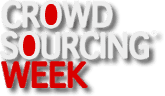 With only a few days left before their 2nd annual event commences in Singapore, Crowdsourcing Week – CSW Global 2014 – is putting the finishing touches on their gathering  where crowdsourcing and the crowd economy come together.  The event will take place from April 7th to 11th at the Genexis Theater in Fusionopolis.
Crowdsourcing Week is committed to help organizations transition into a more open, connected, and socially productive society. They focus on how crowdsourcing can address the needs of today's leaders to bring about meaningful change. Their big, ambitious goal is to get everyone thinking about collaborating with their stakeholders to create and increase shared value.

Founded by Epi Ludvik Nekaj, an early believer in the potential crowdsourcing, Epi created Ludvik+Partners in 2008, a boutique virtual ad agencies built on a 100% crowdsourcing model. The idea for something bigger took seed when Ludvik+Partners and Collective Bias organized the event 'How Crowdsourcing is Changing the Advertising Business' during Internet Week 2011. Epi understood that engagement and knowledge transfer in this space could help organizations overcome their shortcomings and create real stakeholder value. Crowdsourcing Week was founded in 2012 and since then has launched a flagship global conference, organized crowdsourcing summits across three continents, built around a global movement.
This year's theme is "Crowd Impact: Empowering Transformation".  Speakers include open-internet pioneers, leaders of multinational corporations, and disruptive innovators who understand the impact of the fundamental shift towards the new crowd economy.

Some of the highlighted events include:

What's in Store for Crowdsourcing in 2014 and Beyond – Tuesday, April 8

Sean Moffitt (Wikibrands) and and Epi Ludvik Nekaj (Crowdsourcing Week) who will highlight key results from the first annual 2014 Global Crowdsourcing Survey and deliver their thoughts on trends this year and beyond.

There Is No More B2B or B2C: There Is Only Human to Human (H2H) – Tuesday, April 8

The new shift in brand language and speak is here. Bryan Kramer, author of the new book Human to Human #H2H, will talk about how enterprises can create shifts towards better engagement through a more human-centric approach.

The Crowdsourced Search for MH370 – Wednesday, April 9

Luke Barrington (Tomnod) will give an inside look at the worldwide crowdsourced search for Flight MH370 that his company Tomnod launched and will discuss the potential of crowdsourcing for rescue and relief missions.

Why is the United Nations Investing in a Crowdsourcing Platform to Engage the Youth? – Wednesday, April 9

The United Nations is crowdsourcing youth engagement to help move the post-2015 development debate from consultation to consolidation. Mattias Sundholm, Communications Advisor to the UN will deliver an exclusive recorded message that will highlight the opportunity this effort presents for youth initiatives.

How to Establish a Global Presence for Your Startup Through Crowdfunding – Thursday, April 10

Veteran tech entrepreneur Nick NM Yap successfully crowdfunded two startups within four months that collectively raised over a million dollars – Omate TrueSmart and ROCKI. He will explain why some projects fly while others tank, and how crowdfunding is giving start-ups the muscles to innovate.

Sponsored Links by DQ Promote