Adding another event to its Block Party on May 3rd, crowfunding giant Kickstarter announced its hosting the first ever art show on its new gallery. The show will feature a plethora of pieces made by artist who have used campaign website to raise funds and will have a range of work including photography, painting, prints installation pieces, digital pieces and interactive art. It will have a wide variety of styles. To show some support for its featured artists, Kickstarter paid a visit to several to discuss their work and what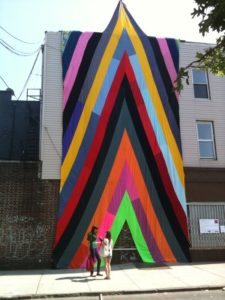 visitors should expect during the show.
Conceptual artist Amanda Browder stated, "Future Phenomena is a large scale fabric installation that will be draped on the façade of the new Kickstarter building for the street festival. The piece was originally displayed on Eagle and Manhattan in 2010. It was sponsored by NBArt and the Brooklyn Arts Council. We used Kickstarter to help raise additional funds. All the fabric in the pieces was donated by people of Brooklyn and was sewed together by local volunteers. We held three public sewing days that were held at local schools and churches."

She continued, "I start this project as a way for me to get to know my neighbors. As gentrification and high rent rise, I did not want to be another nomadic artist. This project introduced me to my neighbors, the landlords, priests, councilman, etc. of Greenpoint and beyond. The piece is supposed to draw your eye up, and have a feeling of shock and awe. A bright change to an everyday location."
Sharing details about his art that's in the show, new media artist Jeremy Bailey noted, "They will find a larger-than-life sized augmented reality Important Portrait of me based on Munich Dürer's Self-Portrait, considered by many to be the ego-centric painting ever conceived."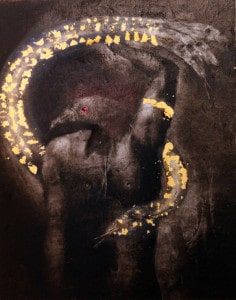 Painter Marshall Arisman revealed, "All Buddhism is based in the concept that true enlightenment can only occur in the space between the angels and the demons. In my studio I have one wall of paintings of angels and one wall of paints of demons. My art work that is hanging in the Kickstarter art show is a digital print of an angel, part of a limited edition done specifically for Kicstarter. The view will have to supply their own demon.
Kickstarter promises the show will not only attract new investors, but it will also pay tribute to the artists that put time and energy to each piece that is featured.

Sponsored Links by DQ Promote