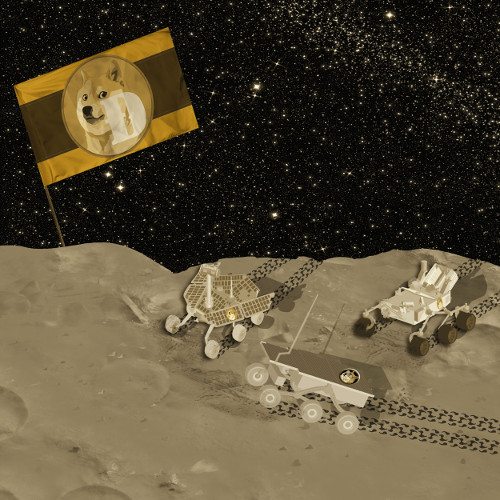 "To the Moon!" a familiar slogan that resonates in the Dogecoin community,  is on its way to becoming a real-life event. Team Phoenicia, Inc. and RevUp Render, Inc. have teamed up to roll out the next big Dogecoin challenge – the RevUp Render Lunar Iditarod Competition.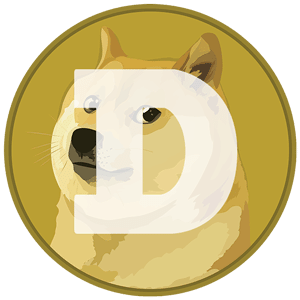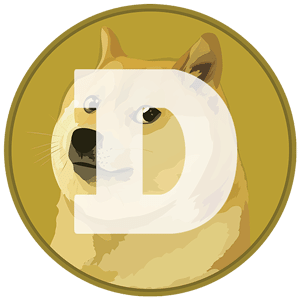 Fueled by Dogecoin digital currency, which is similar to Bitcoin, participants will compete in a three-way race on the moon, racing mini moon rovers called DogeSleds, which are the size of smartphones.
The RevUp Render Lunar Iditarod will unfold in several stages over the next year and a half. The first stages of the competition will narrow the field of competitors to three Dogecoin-themed DogeSled moon rovers. For the final stage of the competition, the three chosen DogeSleds will be placed aboard a lunar lander and physically carried to the moon on Team Phoenicia's Phoenicia-1 mission scheduled for Q4 2015. The final stage of the competition involves the actual race, which will take place on the moon after the three DogeSleds have disembarked from the lunar lander.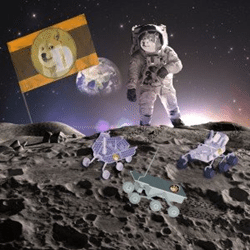 The Dogecoin-themed event is the culmination of space meets the cloud – Team Phoenicia's discovery of an unmet need in the private space industry and an inmet need in the private space industry and RevUp Render's custom cloud technology for design and engineering, which allows teams to collaborate on complex design projects from any location. Team Phoenicia, which is manifesting the Phoenicia-1 mission, will deliver payloads to low-earth orbit and the moon.
In November 2013, Penn State University's Google Lunar X PRIZE, the Lunar Lions, was the first payload to reserve a slot on the Phoenicia-1 launch in 2015. CEO of Team Phoenicia William Baird explained, "Team Phoenicia was a Google Lunar X PRIZE (GLXP) team for several years before withdrawing to focus on the launch. We realize the launch itself was as challenging as the rest of the prize. If someone did not focus exclusively on the launch, no team was likely to make it to the moon."
President of RevUp Render Ry Bruscoe noted, "The Iditarod is the perfect way for the Dogecoin community to push the limits of digital currency and advanced engineering to achieve something that has never been done before – racing micro-rovers on the moon. Participants will have access to our advance cloud computing technologies to push their designs to new heights. We can't wait to see what Lunar Iditarod teams create in the most ambitious challenge to date for the Dogecoin community.

"Team Phoenicia is proud to support the RevUp Render Iditarod Challegne. We bring our experience in the past challenges, the contacts made through those experiences, and of course, the launch itself. The Dogecoin community is well positioned for growth beyond being just another cryptocurrency. By crossing pollinating the Dogecoin, robotics, and NewSpace communities, we create the opportunity for these vastly different communities to learn from one another, creating something that is stronger and better than we ever imagined. Not only as we offering to help the Dogecoin community achieve its goal of 'To the Moon,' we are helping to create a market for Dogecoin that will help increase demand for the cryptocurrency around the world."
Within a period of five months, Dogecoiners funded the Jamaican Olympic bobsled team, sponsored a NASCAR driver, and rallied beind nymerous charities. Unlike these previous sponsorships, the RevIp Render Lunar Iditarod, is not reliant on crowdfunding. At its core, this event is about extending Dogecoin awareness and usage by incorporating Dogecoin marketing and transactions into the competition requirements. The Lunar Iditarod is the ultimate vehicle for getting Dogecoin "To the Moon!"

Sponsored Links by DQ Promote