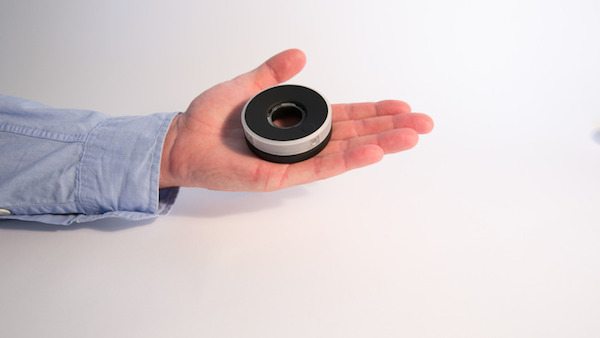 With a little more than week until its crowdfunding campaign on Kickstarter closes, interactive panoramic CENTR Camera is edging closer to its $900,000 goal but standing at just over $500,000 – organizers have their work cut out for them in the final days of the campaign.
In a post on their campaign page, Centre has called on existing backers to help out:
Since the start of the campaign we have gotten top-tier press coverage around the world. To our surprise however, some of the most highly trafficked websites did not convert into Kickstarter contributions, so we have tried to focus on traffic that is more likely to convert. We didn't just make up an arbitrary goal for this campaign, it is a target we need to hit to bring you the best panoramic camera in a beautifully designed product. This team knows what it takes to bring groundbreaking technology to market, and we will do it again with your support.
So how can you help get us there? In the final week and a half, we have offered a discount to our backers if they reach out and share a video testimonial with us about why they love CENTR and how they plan to use their CENTR Camera. We will be using this footage as part of a targeted approach to reach the people and use cases that have shown the most interest to date. We will also be sharing original CENTR videos we are shooting this week to ensure our final push is in tandem with engaging new content.
YOU are the most important marketers we have. If every current backer gets one person to back CENTR, we would be over the goal in no time. This community of backers is the best resource we have to meet the goal. Thank you to all our backers for your excitement around the CENTR Camera. We appreciate your help spreading the word.
Built by former Apple engineers, CENTR Camera has four HD image images sensors that are mounted around the palm-sized frame. Unlike other cameras that shoot at a direct angle, it captures real-time 360 degree video recording up to 60fps and has Bluetooth-enable mobile device controls. It also has a quick-release battery, has up to 4K panoramic video resolution, 20MP time-lapse panoramic photos, and an individual camera for when the users do not want to shoot in 360 degrees.
CEO of CENTR Camera Bill Banta noted, "No one wants to see your hand. We realized we had to come up with a shape that allowed you to hold the camera without disrupting the view."

Also discussing what else inspired the device's donut-shape, Mr. Banta revealed, "We designed it with the idea of a 'GoPro Plus.' We said, 'How do we create a device that people can use to take awesome imagery, like they do with a GoPro, and then allow them to do more, to take these panoramic videos?'"
Since 2011, CENTR has done work with its cameras for Fox Sports, National Geographic, and the U.S. Army. The company launched the Kickstarter campaign to gage consumer's interest in a new kind of camera that seems to capture EVERYTHING no matter where it is.
With just nine days left, the campaign has raised a total of about $508,332 from over 1,730 backers.
Have a crowdfunding offering you'd like to share? Submit an offering for consideration using our Submit a Tip form and we may share it on our site!