Crowdcube, the UK based investment crowdfunding platform, has announced a new type of assert for the crowdfunding platforms investors: the Crowdcube Mini-Bond.  Crowdcube now offers three paths to investing online:  equity, venture fund and the mini-bond.
The investment crowdfunding platform that has offered only equity offers up to now is moving into the debt markets with their new security.  Crowdcube is facilitating finance for "more established" companies seeking growth capital (over £1 million).  The mini-bond market is already established in the UK but Crowdcube will be the first equity crowdfunding platform to offer them via their platform.
A mini – or retail bond – is an unlisted bond that is typically issued directly by a company to their customers or general public.  Mini bonds are already authorized by the Financial Conduct Authority (FCA) and are normally unsecured and non-convertible.  In the past the process to issue these types of securities has been a cumbersome and expensive undertaking. Crowdcube is looking to alter this equation by making the process affordable
and seamless for issuers while making them available to everyday investors on their platform.  With over 73,000 registered members, each able to invest, Crowdcube has a ready market for this type of asset.
Crowdcube co-founder Luke Lang talked about offering mini-bonds;
"Just as we revolutionised equity investment, we are now turning the mini-bond market on its head by taking away the complexity and costs for businesses who want to raise growth capital and cut out the banks, at the same time as presenting a unique way to engage with their customers, encouraging loyalty from existing customers and attracting new people to their brand. For customers and investors, the opportunity to invest in companies they already know, and want to support, as well as receive a regular financial return on their investment, is appealing."
The very first company to take advantage of this new service is the award winning Mexican food chain Chilango who is looking to raise £1 million to boost their growth.  The bond has an interest rate of 8% over a four year term.  The "Burrito Bond" will make semi-annual payments and requires a minimum purchase of £500.
Chilango was founded by former Skype executives Eric Partaker and Dan Houghton back in 2007.  Their first restaurant was launched in  Islington, London.  Now the company has grown to seven locations in central London.  Chilango will use the new capital to increase their rate of expansion.
Partaker is clearly enjoying being "first" to offer mini-bonds on Crowdcube;
"Our Burrito Bond is the perfect way for us to engage with our loyal following as well as Crowdcube's investor base and accelerate our expansion plans with additional growth capital. As big fans of Mexican food we love everything that is vibrant, fresh and fun and Crowdcube is all of these. Its mini-bond platform is a breath of fresh air amongst the complexity and expense of existing solutions."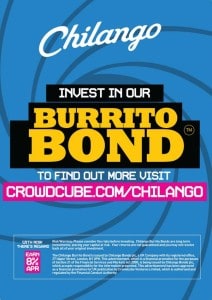 As a consumer facing company with solid name recognition in the London market expectations are for solid demand for the offer.
With the new security class Crowdcube pushes forward on the growing disintermediation of the traditional banking industry.  Offering both debt and equity instruments was a natural next step as investor demand surely exists.  One would expect other platforms to soon follow suit as many companies in need of capital will prefer debt over equity.
Have a crowdfunding offering you'd like to share? Submit an offering for consideration using our Submit a Tip form and we may share it on our site!