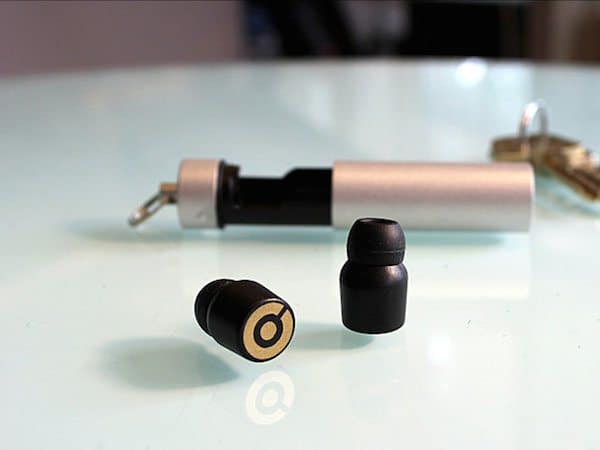 The search for small, wireless headphones is over! Sweden-based Earin earbuds launched its crowdfunding campaign on Kickstarter last week. Within a week, the campaign surpassed its initial goal of £179,000 and raised £415,687 from 3,818.
Earin's nearly invisible earbuds function as one Bluetooth headset. There's no need for cables or attachments, it just magically small delivery of high quality audio sound.  In 2008, founder of Earin, Olle Lindén, decided to create the exciting new earbuds after seeing the intro of the movie "Definitely Maybe," where actor Ryan Reynolds is seen walking down a crowded New York City street with just a pair of small earbuds without cables. This inspired Olle to create "a perfect wireless experience."
Lindén wrote, "At that time, the technology to transmit stereo sound wirelessly was not available as I imagined, but 5 years later I assembled a team of former colleagues and we began our journey. Now we are proud to present a product that is easy to use, beautifully crafted, and creates a fantastic music experience."
Explaining the reasoning to ditch the usual wired headsets, Lindén stated, "Wires [are] always the first point of irritation with headphones. They are in the way, create sound when touching clothes or cheek, and get pulled out of my whenever I am on the move." To remove the wires, Earin has a Bluetooth chip that receives a wireless signal and transmits the sound right to the earbuds.
Along with not having wires, the team used balanced armature speaks, which have a high-precision design consisting of spring and magnetic forces that removes a lot of moving mass. Each earbud has a 50mAh li-ion battery that should be good for 2.5-3 hours of playback time. While this is not as good as other headphones, the amount of hours of playback helps make the small earbuds sound more impressive.
Although it doesn't have as many functions as other headphones, Olle revealed, "No unnecessary functionality has been added. No sensors, no lights and no microphone, that's right – no microphone! Not because we couldn't but because we wouldn't! Earin is for music lovers – and music lovers only."
For early birds, the Earin was sold for 79. Now that the offer is gone, the earbuds will be given to backers for a price of £119. Earin is expected to hit the market in January 2015.
Have a crowdfunding offering you'd like to share? Submit an offering for consideration using our Submit a Tip form and we may share it on our site!